Netting department of William Barbour and Sons. Hilden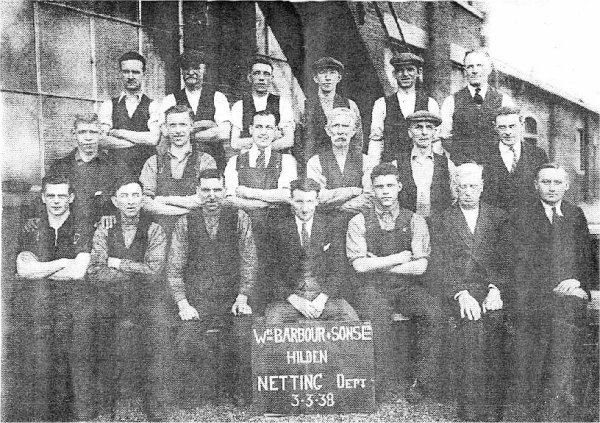 Netting set is complete
Last week's old picture of the women who worked in the netting department of William Barbour and Sons. Hilden, prompted Mr. Derick Coburn. of Lawnbrook Drive, Hilden, to complete the picture by submitting this photograph of the men who worked in the department at the same time, March 3, 1938. Mr. Coburn. whose father, Mr. Fred Coburn. time and cost clerk and later overlooker, is on the extreme right front row, says many workers are missing from the photograph including night shift workers.
Back row (left to right) are Dan Marmian, Billy Bleakes, Tommy Topping, Bobby McMaster, Davy Bell, Billy Carnahan, clerk and later overlooker.
Middle row, Stanley McCurley, Jim Hayden. Billy Gibson, Richard Hayden, Tommy Ringland, John Williamson, overlooker.
Front row, Eddie Jefferson. Tommy Watters, Frank Kennedy, Bertie Hanna, manager: Billy Bell, Billy McCurley and Mr. Coburn. E.1852.
12/02/2009