- OR -
Summer evening services at Middle Church, Ballinderry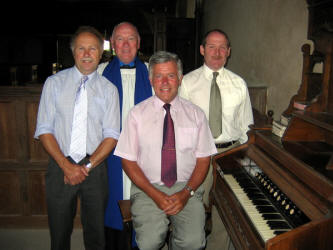 Pictured at the Summer evening service in Middle Church, Ballinderry last Sunday evening is Robert Yarr - Organist (seated at the pedal operated harmonium) and L to R: (standing) David Elwood - People's Warden, Jim Neill - Guest Speaker, and John Hunsdale - Rector's Warden.
"In no country church could better examples of the conditions under which worship was held two hundred years ago be found, - the great family pews, high and uncomfortable, the old central pulpit in three stages rising one above the other; the wide stone-paved aisle, the small red tiled chancel, and the bell cot on the west gable" is an extract from a book entitled 'The Middle Church of Ballinderry' written by Francis Joseph Bigger and William J. Fennell. Consecrated in 1668, "The church has now lost much that made it perfect in early times, but enough remains of its character to make it valuable and full of interest to the architect and the archaeologist, as well as to the Irish historian."
With no electricity, Middle Church has no artificial light or heating. Summer evening services were held during July and will also be held on Sunday 6th, 13th, 20th and 27th August and 3rd September at 7.00pm. Everyone will be made most welcome. The guest speaker last Sunday evening was Jim Neill - Diosesan Lay Reader (Parish of Upper Falls) and the organist was Robert Yarr who has been the organist at Ballinderry Parish for the past 45 years.
Francis Joseph Bigger and William J. Fennell's book records that "the first Church of Ballinderry was known locally as the Church of Portmore, or Jeremy Taylor's Church. Bishop Taylor found this church inconvenient, and caused another to be erected nearer the village, now known as the Middle Church. In 1823 it was decided to build the new church on the site of the Middle Church, which, however, was subsequently overruled, and the present site adopted after a considerable amount of discussion. In 1824 the Middle Church was abandoned for all but mortuary and other occasional services, and the present Parish Church erected, which, with its gracefully proportioned spire, forms a pleasant picture as seen from its less pretentious parent - Middle Church". This interesting book has recently been scanned and can now be read online at www.lisburn.com.
Go to: www.lisburn.com
Click on: Church Section
Click on: Lisburn's Churches
Click on: Ballinderry, Middle Church
Click on: The Middle Church of Ballinderry and Bishop Jeremy Taylor.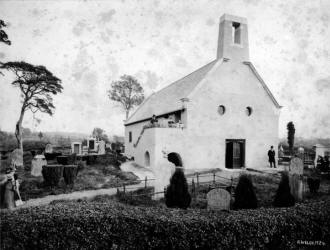 The exterior of the Middle Church, Ballinderry taken in 1924 showing ladies in Edwardian hats and dresses, gentlemen immaculately attired in top hats and frocked coats, and children dressed in sailor style.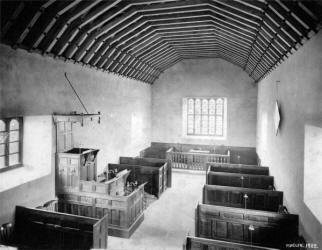 The interior of the Middle Church, Ballinderry taken in 1925 showing the high family pews and the old central pulpit in three stages rising one above the other.