Locals bring cheer to Crumlin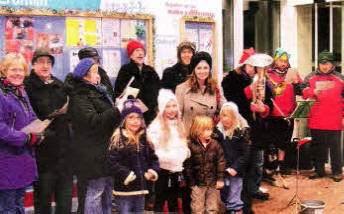 Some local clergy and friends carol singing in Tesco in Crumlin.
SOME members and friends of the Crumlin and Glenavy Clergy Fellowship braved temperatures as low as -11 degrees to entertain shoppers at Tesco in Crumlin in the run-up to Christmas.
For more than two hours the assembled carol singers brought the Christmas message to an appreciative audience. Commenting on the event, local minister and clergy fellowship secretary Rev. Dr. Scott Peddie said: "It was wonderful to have the opportunity to communicate the joy and hope that is at the heart of Christmas by gathering to sing carols together. We are grateful to Tesco for allowing us the opportunity to do this. We were also very heartened at the generosity of the shoppers who donated just under £150 for our nominated charity, the Simon Community, an organisation that provides accommodation and support services to homeless people across Northern Ireland."
The Crumlin and Glenavy Clergy Fellowship will be hosting a service of worship and praise to celebrate the week of prayer for Christian Unity 2011.
The service will be held at 4pm in First Presbyterian Church (Non-Subscribing) Crumlin on Sunday January 16. The guest preacher will be Dr. Gladys Ganiel, Lecturer and Coordinator of the Conflict Resolution and Reconciliation Studies Programme at the Irish School of Ecumenics in Dublin at Belfast. Everyone is very welcome to attend.
Ulster Star
14/01/2011