Lisburn man helps to bring education to African children

David Savage with Lucie Stanley from Wales meet HRH Ufuwai Bonet, the Mataba or `the Untouchable,' the Chief of Kagoro and his council
LISBURN man David Savage has returned from a recent visit to the remote Kaduna State in Nigeria where he was helping bring education to the local children.
Before Christmas last year the former Lisnagarvey High School teacher spent seven weeks working with Mission Africa and the Service in Mission Organisation on the construction of a Christian Primary School.
David, a member of Lowe Memorial Presbyterian Church, had been over twice before working on projects after an initial visit with a team from church.
This time he went alone but was joined by a vet from Wales, Lucie Stanley, for 10 days.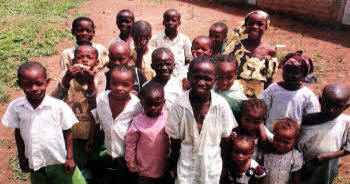 Some of the children who attend the new school.
The new school in a Fulani settlement has four classrooms, 52 children and three teachers. A service of dedication took place during David's visit and Rev. James Burnett from Lowe Memorial Presbyterian Church flew out to conduct a special service to mark the opening of the school.
This was attended by 120 representatives from the local state and feudal rulers as well as members of local churches and mission workers.
Speaking about his time in Kaduna David said: The Fulani people I worked with are lovely. They are a gentle natured people who are very private and don't like a lot of fuss.
The Fulani way of life is cattle and the cattle are so unbelievably tame, although it is not a particularly good land for cattle. Working with these people is literally like taking a step back in time.
They are totally uneducated because of their former nomadic way of life."
David met with several of the chiefs during his visit to renew and strike up new relationships with them. These chiefs, he explained ,have shown their support for the joint mission project. The whole idea is about sharing
Christianity with them and bringing education to the children who are the future of the nation.
It is hoped that this project will expand and a committee has been set up here in Ireland chaired by Rev Dr Sid Garland, a long term missionary worker in Nigeria.
David's trip was funded by himself, friends and members of his church and he hopes to return later in the year.
Ulster Star
14/01/2011