Moirabook Fair to raise funds for overseas missions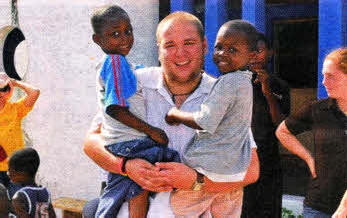 LOCAL people can enjoy browsing through a variety of books, before sitting down to a cup of coffee and some homemade scones tomorrow (Saturday), when a Book Fair and Coffee Morning will be held in St John's Parish Centre, Moira from 10am.
The event is being held in aid of two good causes, with the book sales helping to fund the costs of young people going on overseas mission trips this summer, whilst the cup of coffee will help the coffers of the St John's Church Building Fund.
Upper Ballinderry Business Studies student Andrew McMurray (19) is one of the young people who will benefit from this fundraising.
Andrew is currently working on a ten month project with the PAIS Project in Ghana, carrying
out a wide range of youth ministries in local schools and orphanages in Accra, Ghana's capital.
"Working in these underprivileged communities and seeing young people with passion has been a life changing experience for me,' commented Andrew.
"Talking with HIV Aids orphans really makes me think and appreciate life more. It's due to the good work of the Youth Missions Fundraising Team at St John's that I'm able to make a difference in the lives of some children in Ghana."
So if it's Maeve Binchy, John Grisham or Roald Dahl you are after, there's sure to be the perfect book for you at St John's Parish Centre in Moira. The doors open at 10am tomorrow (Saturday).
For more information, please call St John's Parish Centre on 028 9261 7136.
Ulster Star
21/01/2010