Local churches ring in New Year's resolution to help cancer charity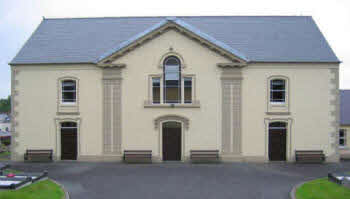 THE Congregations of three County Down churches have set themselves a New Year's Resolution with a difference. They are setting out to win friends and influence people in 2011 - not for their own benefit, but in support of the Friends of the Cancer Centre charity.
The Non-Subscribing Presbyterian Churches of Dromore, 1st Kilmore, Rademon and Ravara have chosen 'Friends' as their designated charity for 2011.
Congregation members have dedicated themselves to raising funds to help cancer patients and their families, fund important research and buy equipment, supporting the work done at the Cancer Centre at Belfast City Hospital, the centre for excellence for the entire country of Ireland.
The Rt Rev Sam Peden, Moderator of the Non-Subscribing Presbyterian Church of Ireland, who is the force behind the new charity association, said: "Almost every home in the land - my own included - has been touched by cancer at some stage. There is therefore great empathy for the Friends of the Cancer Centre and a genuine wish to support and perhaps even extend the nature and number of the valuable projects they fund.
"I am delighted and very proud to launch our 'Friends' partnership in my own 'home Congregations', but I hope that we can also influence the other thirty-three churches in Ireland to follow our lead so that, together, we can maximise our impact."
Colleen Shaw, Fund Raising Manager of Friends of the Cancer Centre, welcomed the support. She said: "The Friends of the Cancer Centre has been supporting cancer patients and their families, raising money to buy equipment, patient comforts and funding important research for more than twenty-five years - and the need has not diminished.
"All the money raised by the churches will contribute to the care and treatment of cancer patients in our community, making a real and meaningful difference to the lives of cancer patients and their families.
"We rely totally on voluntary donations from the community and, perhaps not surprisingly, churches have always been generous and enthusiastic supporters of our work. Even so, we are regularly taken aback by the generosity which they show. "I was thrilled recently to be invited to receive from Rademon Non Subscribing Presbyterian Church Congregation member Pamela Rooney a cheque for £381.80 raised at a carol Service ..... and still more thrilled to discover that this was to be the beginning of a great new friendship! Our thanks go to everyone involved.
Ulster Star
04/02/2011