Well-known local man passes away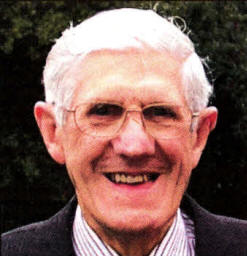 THERE was a large attendance of mourners in All Saints' Eglantine Parish Church on Friday December 3 at the funeral of Robert Edgar Cumins, Carnbane House, Lisburn, who passed away on Tuesday November 30, in his 90th year.
The service, conducted by Rev. Canon William Bell, was followed by the interment in the adjoining graveyard.
Robert was born on January 3 1921 and was educated at Royal Belfast Academical Institution. In June 1940 he joined the RAF, serving in various locations in the United Kingdom and North Africa.
After the war he returned home to run the farm which supplied the family business of J. M. Cumins, Meat Purveyors, Bow Street, Lisburn, managed by his father and brother John, until its closure in the 1970s.
He continued to farm at Carnbane in partnership with his son Edgar, having a keen interest up until his death.
In 1945 he married his childhood sweetheart Olive and shared 49 years together, before her untimely death in 1994.
He was a devoted father and grandfather and is survived by his daughters, Ann, Barbara, Jennifer, Roberta, his son Edgar and their families.
Ulster Star
07/01/2010