Moira parishioners put a new voice to the Bible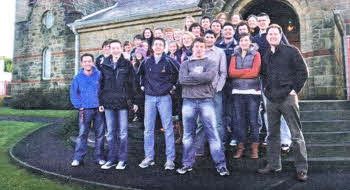 Young people from St John's Parish in Moira who are taking part in an initiative organised by Summer Madness to give to give the Bible a new voice in 2011
YOUNG people from St John's Parish in Moira will be joining thousands of others to give the bible a new voice this St Patrick's Day with an innovative audio recording.
Ireland's largest Christian festival, Summer Madness, wants to celebrate St Patrick's Day by producing an audio version of the entire bible using young people's voices from across the island.
Summer Madness Director John Kee explained: This year is the 400th anniversary of the King James version of the bible and our vision is to highlight that the Bible is as relevant to young people today as it was 400 years ago. "We want young people from across Ireland to go to www.audioboo.com and simply choose and record a chapter from the Bible.
"We will then compile it into one complete audio bible that will feature young people from all locations, backgrounds and denominations in Ireland that will be freely available to anyone to download or listen to online.
"It's a brilliant way to celebrate St Patrick's heritage in a unique and contemporary fashion."
The Rt Revd. Harold Miller, Bishop of Down & Dromore, added: "Ireland has a strong Christian heritage, so it is really inspiring to see young people in Ireland continue that tradition with this unique opportunity.
They will be giving their own voice to a fantastic message that's as relevant today as it was to St Patrick.
I wholeheartedly commend this project to all of our youth groups and Parishes in the Dioceses."
For further information or to take part contact Summer Madness on 9067 3379 or email office@summermadness.co.uk.
Ulster Star
25/02/2011