A long forgotten way of life in the Sperrins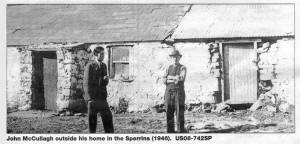 THIS small picture dates from 1946 and I cherish it as it reflects a way of life which was common place in remote mountainous areas of County Tyrone which was a landscape of 'heather, peat and stone', According to the Tyrone balladeer Rev. WF Marshall.
It was taken at Monanameal, a little town land nestling in the Sperrins, beside the nine pipe bridge, not far from Six Towns, where some of the crofters only contact with civilisation was postman Pat Rafferty with his little red van.
Pat brought 'messages' on request as a kind of unofficial extra service.
John McCullagh, the man seen in the picture, inherited a small holding, mostly unarable and like many of his peers he hadn't been able to afford to get married until he qualified for the 10/- a week means tested old age pension at the age of 70.
The Beveridge scheme of 'freedom from want' (ie the Welfare State) was just taking shape and John, to his delight, soon discovered that if he had dependants he could claim supplementary pension.
That was the answer to a prayer and he promptly looked around for a woman.
One of the travelling folk jumped on the bandwagon and ere long John had a wee one to nurse ... then another and another.
His pals in the pub mocked him about having good neighbours and John responded by rolling up his sleeves to display his biceps as proof of his virility which his mates were challenging.
The old man occupied the bay to the left in the picture. The byre and out offices were on the right, the bit with the corrugated iron roof.
Note: I have called him John McCullagh as half the local population had that name. McCullagh was not his real name.
Actually there were so many of the same name in some town lands that the mother's Christian name had usually to be appended in brackets thus John McCullagh (Rose).
By Pat Smyth
Ulster Star