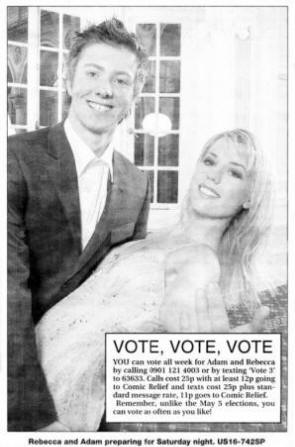 The dream lives on for Lisburn's dancing queen
THE dream of Lisburn's very own dancing queen is still alive after Rebecca Leonard made it through to the next round of BBC's Strictly Dance Fever on Saturday night.
The whole of Lisburn, and indeed Northern Ireland, were gripped as Rebecca and her partner Adam Spencer picked up the tempo with a boogie woogie number, dancing their way into the hearts of the viewers.
They were one of 10 couples on the show who will be eliminated one at a time based on the opinion of viewers and judges.
And some of those judges had mixed feelings on the duo with strong words filling the London studio.
Arlene Philips criticised Adam's lack of training, much to the disgust of the couple's dance tutor, and fellow judge Luca Tommassini, who chose the couple as his favourite of the night, awarding them 9 out of 10 for their performance.
Speaking after the couple made it through the next round of the competition, Rebecca's mother, Irene, said she had spoken to her daughter briefly this week and that Rebecca was pleased with how it was all going. Irene continued: "Rebecca said they were doing very well, that the craic in the house was good and that they were all enjoying each other's company.
"Rebecca was upset when the first couple left at the weekend because she shared a room with Michelle. Even though they knew someone was going to leave it was still hard."
Support for Rebecca back at home in Lisburn has been strong and friends and family are hoping everyone will keep voting for the local girl when she and Adam take on the hustle on Saturday night.
Rebecca's ballet teacher, Mrs Joyce McVicker, had nothing but praise for her talented former pupil and is encouraging everyone to vote for the local girl.
She said: "Rebecca was with me for 14 years and she went to my sister-in-law for tap lessons as well. "She was always so dedicated and reliable. She worked so hard and this is the result.
"In every exam she always got a distinction so she has a real natural talent. She has never learnt any of these dances before but she is doing so well. "Rebecca is really enjoying it and I just hope, hope, hope that she does well, she really deserves it.
"So put your finger on the phone and keep on voting!"
Lisa Meneely, who is currently studying with Rebecca and working with her on a project for the Dairy Council, is spreading the word of Rebecca's success everywhere she goes.
"Rebecca and I are both working on the Dairy Council's health promotion project, going around schools discussing health and fitness," explained Lisa.
"While I am at the schools I have been telling all the children to support Rebecca and to keep voting for her.
"Rebecca is a really good friend. When she doesn't know people she can be quite reserved but once you get to know her she is great fun.
"After Saturday night I only had a penny left on my phone after voting so much. I saw how gutted she was when she came home the first time and I know how much this means to her. I just know she is in her element and hopefully she will get to stay.
"I want everyone in Lisburn and everyone in Northern Ireland to support Rebecca and keep on voting."
Before Rebecca was whisked away to the bright lights of London, she had been rehearsing for a part in Lisnagarvey Operatic Society's 'Carousel', which delighted Lisburn audiences last week.
Her dance partner in the show, Gary McAlorum, is a friend and is thrilled by her success.
"Rebecca and I have been really close friends for the last two years," explained Gary. "She is part of the Tribal Dance Company and that is where we met. In fact it was her idea for me to go to Lisnagarvey and do the show.
"Rebecca's passion lies in dance and she really deserves this. I hope she can stay in as long as possible and I think she well. Every week they have been going from strength to strength."
Rebecca needs every vote she can get to keep her dancing dream alive so pick up the phone now and vote for the Lisburn girl.