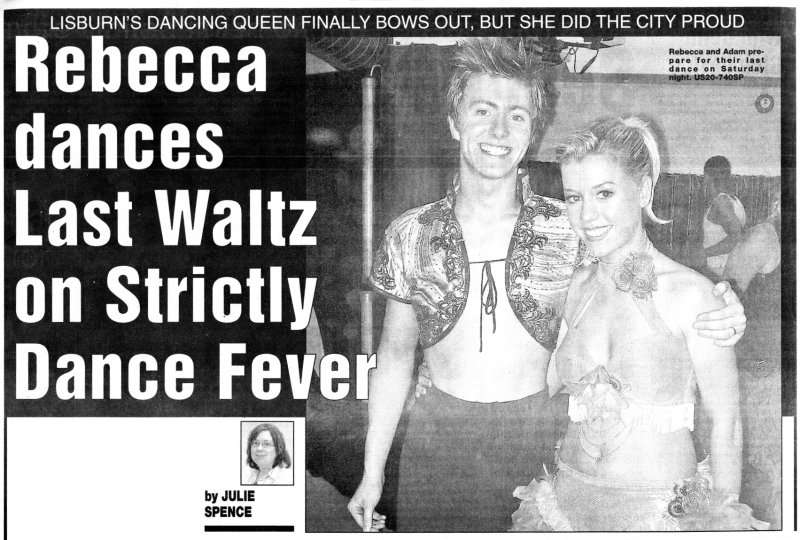 ALL dances used to end with the Last Waltz and after an amazing six weeks that's what Lisburn girl Rebecca Leonard faced on Saturday night on BBC's Strictly Dance Fever.
After doing Lisburn proud and putting the city on the map, Rebecca and her dance partner Adam were voted out of the competition last weekend.
But despite that every one in Lisburn, her friends and family, are incredibly proud of the local dancing queen.
After harsh comments from the judges for the last few weeks, Rebecca knew they faced an uphill climb to survive another week.
After strutting her stuff on the dance floor for four weeks, Rebecca and Adam's final dance, the Mambo, didn't meet with the judge's approval and despite overwhelming support from the public, the couple bowed out in style last Saturday. Rebecca's mother Irene is justly proud of her daughter and has thanked everyone who gave so much support over the weeks.
Irene said: "For anyone who voted for Adam and Rebecca, can I say a big thank-you.
"We are so proud of what Rebecca has achieved. This will be a time of her life she will never forget.
"We will certainly never forget the excitement every week. Wondering what the costumes would be like, how the dances have gone, if we will get to hear her doing other things in the house.
"I hope this opens other opportunities for her. She gave her best at everything she did. For a while at least it put Lisburn in the public eye and I think she has been a great ambassador for our city." Speaking after the show, Rebecca said they knew they were under pressure last week.
"We knew we were in serious danger of going to go out on Saturday" she said.
" The week before we were in the bottom two and we were really gutted because we didn't really expect it, so we thought that even if we did the performance of our lives the judges would still slate us. But at least we went out on a high and we did a good routine.
"I miss it so much already and I have only been away for two days. I miss everybody in the house and I just don't know what to do with myself.
"This has opened a door for me because I could go back to what I did before or I could take a completely new route.
"I am coming home for a few days to take stock but I will be coming back to London and we will all be meeting up for the final show.
"Adam was offered a scholarship for one of the most prestigious theatre schools in London and I was really hoping that he would get something.
"I feel like I have played a part in encouraging him and I felt like his teacher sometimes. I hope I helped him realise he could make a really good dancer.
"I left him last night and I really miss him. I know I bossed him about and we had a bit of a bicker but he was like a wee brother to me
and hopefully we will keep in touch.
"We were probably one of the best matched couples because our style of dance when Adam has been trained will be very similar and our personalities were very similar.
"I got on with everybody in the competition and every single person left in the house deserves to win for one reason or another.
"I shared a room with Jodie and Claire and I got close to them and their partners but we all got really close as there were so few people left.
"I would like to see everybody win. I really hope Nathan gets better and if he doesn't I hope Kirsty does really well because she's really talented. I love Cem and Gemma as well. The final five who are there are all people who should be there.
"I think that this Saturday will be the most interesting because any one of them could go.
"I would like to say thanks to my family and friends for organising all the promotion and getting posters made.
"I believe Lisnagarvey Operatic Society and my school were supporting me. There are so many people who supported me.
"Thank you to everybody in Lisburn who voted for me. I am just so pleased because we never thought we would get so far.
"For somebody from Northern Ireland to do so well is a really good reflection on all the people there. Thank you to everyone."