Live Beer and Real Music at Hilden's annual festival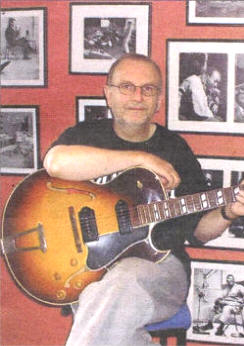 THE courtyard is guaranteed to be rocking at Hilden Brewery next weekend, as their 10th annual Beer & Music Festival rolls back into town from Friday August 28 until Sunday August 30.
The team at Hilden are looking forward to inviting guests to sit back, relax and feast upon the sumptuous Festival BBQ, all washed down with the wide selection of the 30 beers and ciders on offer.
The Festival opens on Friday at 6pm with an evening of 'Brews & Blues'. Bangor based, Chicago Blues band The Pontiax take to the stage first and will set the mood for the evening ahead. Poised to turn festival heads this summer, Cara Robinson and the Bad Habits are three stellar music talents in bare feet or six inch heals with some big girls blues to share. Headlining the Friday night will be The Ronnie Greer Blues Band. One of the justifiable legends of the Northern Ireland music scene, Ronnie is a superb blues and jazz guitarist whose band have notched up notable successes including a stint as backing band for the legendary Whitey Johnston.
The fun continues on Saturday with 'Rock The Courtyard' when punters can get down to another list of toe-tapping bands. Born of frustration and boredom Microlip formed in December 07, in the short year and a half that they have been together they have amassed an arsenal of songs that they are really proud off. In that time Microlip have managed to record 2 demo EPs, gig flat out to packed venues, and beat thousands of other hopefuls in a competition to support The Script in Belfast. Festival veteran, Gerry O'Neill, will this year be joined on the stage by new Celtic rock cooperative Scundered who boast some of the best trad and rock musicians on the circuit. The Red Hot Roosters, who have to date appeared with numerous rock legends including Whitesnake and David Lee Roth, promise to keep the tempo high with their hard-hitting roots rock and roll sound.
Headlining this years Saturday night will be Doghouse. Doghouse are a 6 piece to 8 piece ska band. They have been playing to full houses around Belfast and beyond for a few years now, from the smallest venue to the biggest being the Waterfront in January with Flash Harry.
Another first for the Hilden's 10th Annual Beer and Music Festival will be the introduction of the 'Tipi Garden' which will have an acoustic stage housed in two giant tipis and a number of games for people to play. The Tipi Garden will be open on Saturday and Sunday.
Things take a slightly slower pace during Sunday's 'Beer Brunch' kicking off at 2pm. The Victor Curry Jazz Band's easy listening style is guaranteed to set the mood for Sunday's festivities. The weekend closes with a number of 4-piece bands taking to the stage.
Lisburn-based power pop act Universal Remedy, will keep the party vibe going into early evening with their energetic performance and memorable melodies.
From widely differing musical backgrounds Cava combine a wide range of ideas to create a musical synergy that is truly unique in identity. Like most successful equations, it is the broad scope of influences that lies behind the bands strong musical blueprint. To fully appreciate the Cava experience it is imperative to see them live, as it is onstage that they really thrive.
And finally Jinx, one of Northern Ireland's premier covers bands who cover well-known hits from the 1960s through to the current day. Festival goers can expect hits from the Beatles, Blondie, the Kooks and Amy Winehouse to name but a few.
Festival tickets are priced from £5-10 per person online at hildens-annual-festival.html and from the Brewery who can be contacted on 9266 3863.
Ulster Star
14/08/2009