All set for Adelaide Motorcycle Festival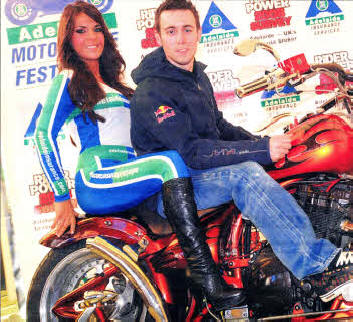 ROAD racing's fastest rider Conor Cummins will be slowing down for the annual Adelaide Motorcycle Festival which begins a three-day run at the King's Hall Belfast, on Friday, February I2. A former Isle of Man bank clerk, 23-year-old Cummins set the Dundrod I50 alight last August when he stretched the lap record to a breath-taking I33.28 mph, the best in the world!
On that occasion Cummins was riding a Kawasaki for the Cookstown-based McAdoo team. So far as the 'Festival' is concerned, the lanky Cummins will be appearing along with the evergreen Ian Lougher, courtesy of Blackhorse Kawasaki Racing. Born in Wales, Lougher is an adopted Ulsterman now living close to Dromara in Co Down. His wealth of experience includes I3 Ulster Grand Prix wins and eight at the North-West 200.
"We have also lined-up Tony Rutter and his son Michael," confirmed Billy Nutt on behalf of the organisers, Nutt Promotions. "Hopefully, the Ducati on which Tony won the Formula-Two world championship back in the I980s will be on display," added Nutt.
Now 68 years-of-age, Rutter was Formula-Two world champion four-times, he won seven Isle of Man TT races and nine at the North-West.
Michael has won I2-times at the N-W where on a couple of occasions he exceeded 200 mph! Nutt went on, "All the major manufacturers have taken floor space. They include Honda, Yamaha, Suzuki, Triumph, Kawasaki, KTM and Harley-Davidson."
"We are confident that both ' Ducati and BMW will also weigh-in for what is really a massive retail shop-window.
"The only show launch of the new VFR I200 Honda on the Saturday will be of particular significance along with Suzuki's M1500 cc Intruder.
"The balcony which we are using for the first time in the King's Hall promises to be a hive of activity with the Chopper Club displaying up to I2-bikes "Live action will be provided by the Arena Trials Team and their dare-devil stunts
"New next month will be a Grand Prix paddock featuring a lot of Classic bikes and hopefully some famous machines as raced by the likes of Barry Sheene.
"Interest in the auto-jumble is growing steadily but there is still some space left," concluded Nutt.
Bikers can also look forward to the "Adelaide International Kells Road Races" press launch Saturday afternoon (February 13) at the Adelaide stand, supported by many of the top riders due to feature at this event on Saturday I7 and Sunday, July 18. Adelaide supports two riders on the motorcycling trip of a lifetime!
Geoff Hill sets off from the festival on another biking adventure: "The Adelaide to Adelaide Adventure, around Australia on a Triumph". This time it's with fellow journalist and author Cohn O'Carroll who will circumnavigate Australia using the legendary Highway One before the road is decommissioned, taking 10-12 weeks to cover the 15,000 miles.
It's the longest national highway in the world, taking in cities, dramatic coastlines, tropical and temperate forests, deserts and tropical swamps! Triumph is providing the bikes - I050 Tigers as they re a great all-round machine. Geoff rode one from Chile to Alaska in his last adventure.
Sam Geddis, Director Adelaide Insurance Services and wife Gloria will be riding the first 2,000 miles. Sam recently completed his IAM Advanced Motorcycle test so is feeling well prepared for the journey.
Both Geoff and Cohn also completed the test raising their safety awareness. A two-man camera crew will be joining the party for the full journey and the public can follow this adventure on www.adelaideadventures.com due to launch on February I2. Come along and see Geoff and Colin off from the
Adelaide stand on Saturday, February I3. Adelaide's been helping the Ireland Air Ambulance raise funds by raffling a BMW F800 S bike as there's no fully-equipped emergency medical helicopter service operating in the Northern Ireland or the Republic of Ireland. The winner will be announced on the Adelaide stand at the Adelaide Motorcycle Festival on Saturday, February I3. There's still a chance to enter by visiting www.winabmwbike.com
The Festival opens on Friday, February I2, from 2pm to I0 pm and continues on Saturday 13th and Sunday I4th from 10am to 5pm
Ulster Star
05/02/2010