Annahilt man set to make waves with autobiography
FORMER FRIENDS' PUPIL DESCRIBES THRILL AND FEAR OF FACING 60FT WAVES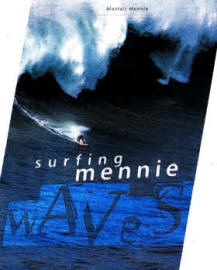 HE has travelled round the world chasing monstrous seas as a big wave surfer. But the most frightening moment of Annahilt man Alastair Mennie's life came just a few hundred miles from home off the west coast of Ireland.
It was in Sligo in December 2009 when Alastair was among a group enjoying rough seas and 60 feet waves.
"The wave exploded on me, splitting my glass fiber helmet and ragdolling me for what seemed like an eternity in complete darkness" he recalled. "Everybody involved that day, there were seven surfers there, were hit really hard, and it's very rarely that happens."
It's just one of the experiences the former Friends' pupil recalls in his autobiography, 'Surfing Mennie Waves', which has just been released.
It may seem strange to be penning your autobiography at the age of just 29, but Alastair wanted to give the insider's view of big wave surfing.
"One of the real motivations for me writing this was that a lot of magazines or books which talk about surfing are written by photographers or onlookers rather than the surfers. I am asked everyday what it is like - the psychological battle, facing the fear and being in 60 foot waves. This book allows readers to sense what it's like out there," explained Alastair.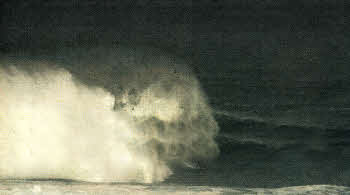 "It is something I have always had in the back of my head but I never thought I would do it. At the end of October I just started writing and I found it really easy, so over the next three months I worked on it."
One of the world's top stars, Alastair is Europe's most successful surfer, being part of the only European team to receive invites to World Tow-In Championships. He has pioneered Big Wave Surfing in Ireland, discovering the best spots on the Irish coast for big waves and making them world renowned.
At home in the sea, Alastair developed his love of the ocean as a child, inspired by his father Des, who worked on trawlers, but who passed away when Alastair was just 22.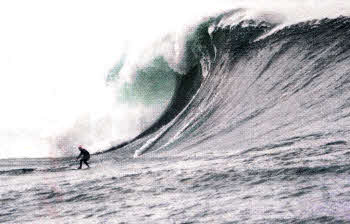 In 'Surfing Mennie Waves', Alastair discusses the inspiration and support he has received from his family, as well as his experiences of surfing at some of the world's most renowned and dangerous spots such as Mavericks, Half Moon Bay, Madeira, Nelscott in Oregon, as well as that life-threatening encounter off the Irish Coast last December.
"A lot of people think I'm mad," said Alastair, "but through this they can see there's a lot that goes on, what it is and what it takes to do it. I think there's a story a lot of people can benefit from, going after your own dreams and thoughts. Hopefully young people can see that you can follow your dreams, no matter where you are, and you can make it happen."
'Surfing Mennie Waves' is a 208 page, fully illustrated book. Priced £14.99 it is available now in certain Waterstones stores and at www.amazon.co.uk. For further information you can visit www.almennie.com, alternatively you can find the Surfing Mennie Waves page on Facebook.
stacey.heaney@ulsterstar.co.uk
Ulster Star
09/04/2010