Andrew continues work to help African children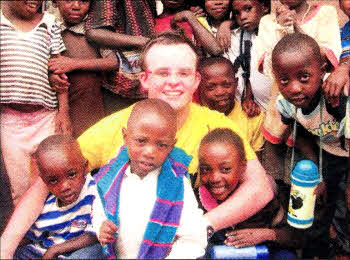 A LISBURN student is set to return to the Zambian community where he has been helping improve the lives of vulnerable children.
Andrew Magee, 20, a geography student at Queen's University is Africa bound for a month in August. Last year he spent part of his gap year working with the Dayspring Streetlife Project, which takes vulnerable children and orphans off the street, cares for them, gives them accommodation and sends them to school. He has now decided to do it all again and plans to develop and build on the work he started.
The Belsize Road man explained: "Last time I worked with the young boys and girls at an orphanage centre and tried to help them with many things, including their education, English and maths. However, I felt the main role was to act like a big brother, someone they could approach for advice and talk to about their problems or worries.
"During my long visit last year, I forged many lasting relationships, made many friends and adopted a large extended family. I also had the opportunity to visit everyone in January of this year, where a late Santa Claus delivered presents." Andrew explained that he also worked with children who had not been taken in by an orphanage. He said: "Three times a week, hundreds of children from around the Luangwa compound would come and have, for most of them, their only meal of the day. Some children walked for many miles to attend this feeding project, some children even carrying their younger brothers and sisters on their back without water or shoes. Without this feeding project, many of these children would not have a healthy, well balanced meal essential for their growth."
Andrew continued:
"Currently I am fundraising and I have planned many events over the coming months to help the project develop. Many children benefit from this fantastic charity.
"I am very excited about the forthcoming trip, the Zambians make me feel very welcome. I cannot wait to return to the community in which I formed so many bonds and help build upon the work already started. "If you would like to get involved or donate to the project in any way please contact jenny.monroe@ulsterstar.co.uk."
Ulster Star
30/04/2010