Wallace's trophy winning team celebrate - army style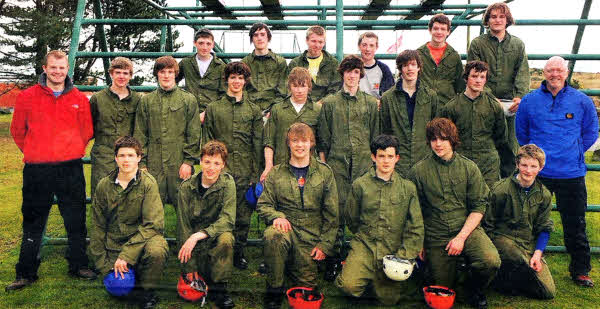 The Wallace Under 15 squad were put through their paces at
Ballykinlar training camp recently.
THIS week joint winners of the Medallion Shield Wallace High School changed their rugby boots for army boots when they underwent training of a different kind at Ballykinlar training camp.
On Monday March 23, Wallace High School drew 10-10 with Campbell College for the Medallion Shield and were crowned joint winners, when they played at Ravenhill. Several days later an Army physical training instructor was putting them through their paces.
Captain Bobby Gillespie said, "We were delighted to offer the boys a day out of the classroom and away from the rugby pitch. The one-day personal development assessment course is about team building and showing groups, schools and colleges how it is essential to work as a team and communicate in any situation.
"Wallace High Medallion Under 15 Rugby team already understands the necessity of team work but what they got was an insight into the Army and how teamwork can mean the difference between life and death. They were taught how to patrol, how a soldier looks after themselves and their kit in the field. They also had the opportunity to sample the delights of the Army's 24 ration pack." Team Captain Zack McCall, who scored one of the tries on Monday, said: "The day has been good craic, although hard work it was a great way to finish the rugby season and celebrate being a joint winner of the Medallion Shield. We finished off the day on the obstacle course and it was pretty challenging. I realise that this wouldn't be everyone's idea of a celebration but the team had a great time and we got a real insight into the Army."
Coach and teacher Johnny Reid said, "Today was about building on what the rugby team has achieved over the last year. Next year these young men will play rugby together so it is essential to keep that bond, stay together and grow on their communication skills. I can't think of where better than with the Army to build on these key areas. This has been a great way to end a winning season."
For more information on how the Army can help your organisation, contact the Army Recruiting Team on 028 9042 0152.
Ulster Star
02/04/2010