Hairdressers open to help Autism - and the price is a snip
by JENNY MONROE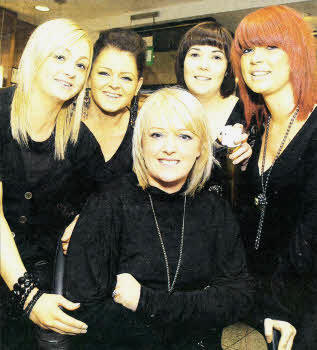 A LISBURN hairdressing business is set to open its doors on Sunday February 28 for a special fund raising event for the local branch of AutismNl.
The staff in Peter Mark in Bow Street Mall have given up their usual day off and the salon will be open for business from 1 — 5 pm offering a credit crunching cut and blow dry for only £20 or a blow dry for just £10.
Jackie Girvan, a Senior Stylist in Peter Mark, is also mum to eleven year old Thomas who lives with Autism.
Jackie explained: As a Mum I know that for my son to develop to his full potential the appropriate services must be made available. Sadly this is not the case for many in Northern Ireland and often people with Autism do not receive appropriate, timely help."
Jackie continued: "I would like to thank my colleagues in Peter Mark for volunteering to work to help raise awareness of the invisible and often misunderstood disability that is Autism".
Salon Manager Monica said: "We are delighted to help raise funds for the local children affected by Autism, and we would encourage all our existing clients and any new clients to support our local charity whilst receiving a fabulous hairstyle.
Afternoon bookings are filling up fast so contact 92 660354 to book your appointment."
Autism NI works to provide life changing services for the 20,000 people affected by Autism throughout Northern Ireland. These services include a parent support network, family support service, training and education courses, developmental research and also lobbying for a NI Autism Act. Every year over 300 children in Northern Ireland are diagnosed with Autism and this figure is set to steadily increase in the future. All funds raised by Autism NI remain within Northern Ireland and are used to improve the lives of those affected by this hidden disability. To find out more about Autism you can contact Autism NI on (028) 9040 1729 or visit www.autismni.org.
Ulster Star
19/02/2010