How a local man's self produced CD became a radio sensation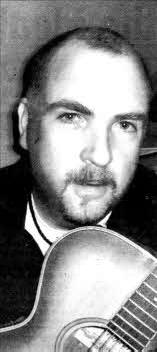 A LISBURN man's decision to send a copy of his self produced five track CD to well known radio presenter Gerry Anderson looks set to be one of the best he has ever made.
Barry Fleming - also known as 'Boo' - originally from the Hillsborough Road area, sent the collection of some of his work to Gerry at Radio Ulster in October.
The title track 'Household Honey' quickly became one of the most requested songs on Anderson's radio show and continues to get extensive airing and now Barry's website has had II,000 hits in just nine weeks. Now Barry, a member of the International Songwriters Association who plays solo regularly at the Gawleys Gate Inn, in Aghalee could be about to fulfill his boyhood dreams. It was music played by his sister Valerie which started a lifelong love for the then nine year old Barry.
"Every Saturday morning when I was growing up I would be woken by my sister playing the latest chart releases from Whitney Houston to Stevie Wonder" he recalled.
"My father also had a vast selection of records, most of which covered a 'country' theme."
At I4 Barry bought himself his first of keyboard and a few years later began his career with local singing star 'Wilfie' in the group known as 'Wilfie and the Keynotes' which operated from I989-96. The opportunity came up to go to England in 2002 and Barry sang live in and around Norwich and worked with a wealth of session musicians; some of whom had played with the likes of Chris Rea and Eric Clapton, before he returned to Northern Ireland in 2006 to rejoin the local circuit as a solo singer.
After recently completing a Diploma in Higher Education in psychotherapy - he is now a fully qualified counsellor - Barry lives in Bleary with his partner and has his own studio where he writes and produces much of his music.
But despite his long time on the music scene it was only recently - persuaded
by family and friends - that he put a taster of some of his work on a CD. When he sent a CD to Gerry Anderson he was really suprised by the feedback. Not only did Gerry play 'Household Honey' almost every day for three months, it still gets a mention on the show most weeks even after almost four months.
"I just decided to send the CD and hope for the best," Barry said. "I literally created and Wrote the song one day in the
kitchen. My friend Tom Harper helped out with backing vocals and some guitar on the first recording, before I took the song into my studio and polished it up. I then sent the finished re-edited version off to Gerry. It is quite an honour to have your first song played and received like that.
"I had no idea when I wrote and sent 'Household Honey' to the radio stations I would get such a response. People started asking where they could buy it, and so I had to act quickly to make this possible. This has been one huge learning curve; but one which has given me great insight into being self-produced."
Barry's website is www.barryfleming.co.uk and the CD can be ordered online via www.CDMaww.gic.co.uk. Digital online versions are also now available on iTunes UK/US/Canada, and also on Amazonmp3.
Ulster Star
19/02/2010