Exciting times ahead at Beechlawn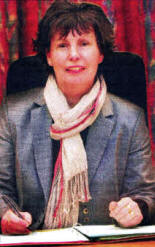 The new Acting Principal at Beechlawn School has said that "exciting times" lie ahead for the school following a number of recent changes.
Mrs Barbara Green took on the role of Acting Principal on Monday January 4, following 17 years service at Beechlawn.
Mrs Green is now looking to the future and the school will soon be launching a new school uniform and prospectus, as well as holding an Open Day on February I2.
Speaking about her new post, Mrs Green commented: "I'm really enjoying my new role. We have wonderful pupils and it has been a very easy transition as they have known me for many years."
Mrs Green was previously the full time Reading Centre Co-ordinator and was the Vice Principal for the past five years.
She is now busy planning ahead for the future of the school. Mrs Green stated: "We are hoping to build a new playground for our ASD pupils, we have a putting green for our Key Stage 4 pupils. We have seven acres of land here with a pond and a river for fishing, there is an outdoor classroom, greenhouses for gardening in the better weather, we use all the facilities of the forest, the village and the castle to promote history and geography.
"We have a new uniform, which Dame Mary Peters will be coming to the school to carry out the launch for and a new prospectus being launched, so we are all very excited. There are exciting times ahead. I did say when I took on this role that there would be challenges and changes and that still holds."
Mrs Green is inviting all prospective statemented pupils and their parents to view the school on February I2 at 10am. The school offers:
Small class settings with a trained teaching assistant to support the teacher in every class.
A team of experienced, specialist teachers who care about the individual needs of the pupils.
All teachers trained in catering for the needs of pupils on the autistic spectrum.
A highly structured, holistic multi-disciplined approach to delivering the Northern Ireland Curriculum in a variety of teaching styles.
A daily menu system to help organise and motivate pupils.
Linguistic Phonics to promote literacy skills from Year 8.
Integrated ICT into every lesson.
Availability of specialists in ICT, PE, Technology, Science and Art. State of the art facilities for these subjects.
Daily supervised lunch club for those pupil who find the playground difficult.
Well resourced life skills room timetabled for each class.
Homeworks set at a level to encourage independence.
An excellent timetabled Pastoral Care programme to help build confidence and self-esteem.
To reserve your place at the Open Day phone 92682302. stacey.heaney@ulsterstar.co.uk
Barbara Green. US0510
Ulster Star
05/02/2010