NSPCC asks locals to get running shoes on for Belfast Marathon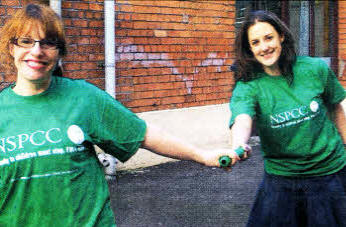 NSPCC Northern Ireland is asking people in Lisburn to take part in the Belfast City Marathon and help support the vital work they do with local vulnerable children and young people.
The Belfast City Marathon takes place on Monday May 3 and is a great event for people to get involved in while at the same time supporting a local charity.
Lisa Moffatt, NSPCC fundraising executive, said: By taking part and raising money you will be helping children in desperate need. Please help u5 by pulling on your trainers, donning your fundraising cap and helping to bring in the pounds for the NSPCC Northern Ireland."
There are a number of ways people can part whether it's running the full 26 miles, organising a relay team, walking with friends or taking part in either the wheel-chair marathon or the fun run, every effort made could help change the lives of children and young people in Northern Ireland. Lisa continued: We would like to encourage those people who have already registered but not yet chosen a charity to sponsor, to contact us and find out how they can make a huge difference to the lives of local children and young people. We are also encouraging people who are unable to take part themselves to support marathon runners by sponsoring them for their marathon efforts. Taking part in a marathon is no easy task and we are extremely grateful to all those people taking part this year in support of NSPCC Northern Ireland."
For more information on how you can get involved contact
Lisa Moffatt, NSPCC community fundraising executive on 028 9035 7978 or email lmoffatt@nspcc.org.uk. To find out more about NSPCC visit www.nspcc.org.uk.
Ulster Star
12/02/2010