Bow Street Mall plan takes a step forward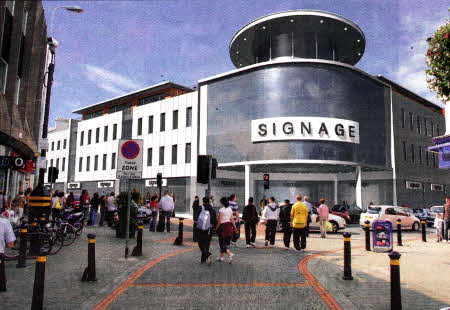 How the Bow Street Mall could look
PLANS for a multi-million pound, 389,000 sq ft extension to Bow Street Mall took a step forward this week with the developers behind the project submitting further information in support of their planning application.
The additional information is thought to include the provision of two options for the development - one which includes the development of the Antrim Street car park and one which excludes the car park, with the expectation that it could be developed at a later date. Option one provides a 22,472sqm Department store, five additional retail units totalling 3,966sqm and nine apartments with Antrim Street Car Park retained in its current form.
Option two provides a Department store of the same size, eight additional retail units totalling 9,030sqm, seventeen apartments and a multi-storey car park with Antrim Street car park developed.
It is understood the provision of these two options could potentially speed up the planning process, meaning work can begin on site as soon as an anchor tenant is secured.
Other minor amendments to the scheme include breaking up the massing and reduced heights on the Bow Street frontage.
The extension, if it gets the go ahead, would include a major new access point for the shopping centre and environmentally-friendly transport initiatives are included to reduce traffic pressures on Antrim Street and elsewhere in the vicinity of the city centre. This will include a new feeder underpass that will have direct access to the car park at Bow Street.
The plans for the scheme were originally submitted in November 2008. At the time the owners said they hoped the new extension could be ready in three years time. With planning approval still to be granted, that seems unlikely. However, it is understood the developers are hopeful the go ahead will be given and are actively seeking an anchor tenant for the extension.
julieann.spence@ulsterstar.co.uk
Ulster Star
23/04/2010