Smokers urged to break the habit with help of local clinic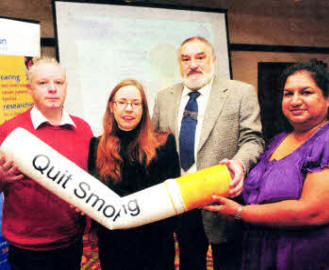 John McLaughlin, ex-smoker and speaker at the Briefing Day with Judith West, Cancer Prevention Officer, Ulster Cancer Foundation; John McClean from Lisburn, ex-smoker and speaker and Vishnee Sauntoo, Marketing Director, No Smoking Day
SMOKERS who want to quit the habit as part of their New Year resolutions are being invited to attend their local support clinic at Lisburn Health Centre on Mondays from 2-4pm.
At a conference held recently as part of the build up to No Smoking Day on Wednesday March 10 the No Smoking Day team encouraged health professionals to help people kick the habit by making plans now to stop.
The No Smoking Day Campaign in Northern Ireland is co-ordinated by the Ulster Cancer Foundation (UCF).
Gerry McElwee, Chair of No Smoking Day Committee (NI) and Head of Cancer Prevention, UCF, said, "The conference brings together over 120 local health professionals who will be involved in organising events for No Smoking Day. It is an ideal opportunity to make plans and exchange ideas with delegates from the team in London, UCF staff and the local co-ordinating group.
"No Smoking Day continues to achieve high levels of public recognition and involvement, and indeed its greatest impact is right here in Northern Ireland."
Those attending any of the free support clinics find out more about smoking habits, tips for giving up and how to cope with cravings. In the last year around 750 people attended UCF stop smoking clinics which helped over 53% of people to stop smoking within four weeks. UCF's workplace stop smoking clinics achieved a remarkable quit rate of 83% in four weeks - more than double the National Institute for Health & Clinical Excellence (NICE) recommended 35% quit rate guidelines.
Anyone wanting to attend the stop smoking support clinics can either be referred by their GP or can contact Bernie Neeson at UCF on 9066 3281 or call UCF's free phone helpline on 0800 783 3339 for information on the nearest support clinic.
Ulster Star
01/01/2010