Enjoy Brigadoon at the Island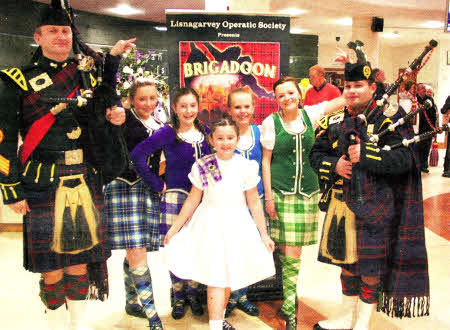 Bonnie lasses and Scottish pipers colourfully promote Lisnagarvey 0peratic's upcoming production of the musical Brigadoon.
LISNAGARVEY Operatic Society will go back in time and transport audiences to the mysterious village of Brigadoon for their upcoming Spring Show.
This classic Broadway Musical was the first big hit for the winning team of Lerner and Loewe whose other successes include My Fair Lady and Paint Your Wagon. It tells the story of a magical Scottish village whose enchanted inhabitants remain invisible to the outside world except for one special day every hundred years. On one such day two American tourists get lost while walking in the hills and on hearing distant music discover a village which doesn't exist on their map. Stranger still the villagers and their activities haven't changed for a number of centuries. The visitors are warmly welcomed and it isn't long before romance blooms but tensions also surface and the continuance of the miracle is threatened.
Whatever the outcome for Brigadoon, Lisnagarvey's keen and experienced cast give a spirited and imaginative interpretation of this show complete with swinging kilts, bonnie lasses, droning bagpipes and wonderful romantic melodies.
The Island Hall is the venue for the production which runs from Tuesday 20th to Saturday 24th April nightly at 7.45pm. Tickets available from the Island Box Office or by telephone 02892509254 or online at www.islandartscentre.com.
Ulster Star
05/03/2010