Lowry back in British Superbike action
MOTORCYCLING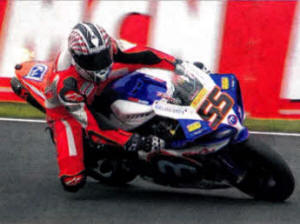 MOIRA rider Ian Lowry came back from the cold this weekend to take up his new ride at the Rob McElnea Motorpoint Yamaha team at the weekend at the third round of the 2010 MCE British Superbike Championship in association with Pirelli, writes Andrea Campbell. Lowry was drafted into the Yamaha team when there number one rider, Burnley's ex British Superbike Championship Neil Hodgson took the tough decision to retire after re-injuring his badly damaged shoulder. Lowry who had been pushed out of the British Championship when he was unable to pick up a ride after being dropped by the Relentless by TAS Suzuki squad, despite being the top rookie rider in 2009, had been riding in the Spanish Moto 2 Championship, but was delighted to take up the McElnea offer.
Unfortunately his debut weekend did not quite go to plan for Lowry, he just narrowly missed out the final 'Swan Combi Roll for Pole' cut, for the last ten riders on Sunday afternoon's final qualifying session and had to settle for 11th place on the grid on row four and was up to eighth place on the opening lap of race one, however on the second lap disaster struck when he slid off the Yamaha at Shell Oil Bend and was unable to restart the race, not only did this put the Moira rider out of race one, it also meant a lower starting place on the grid for race two and the first race fastest lap dictates the grid for race two.
Race two saw Lowry disappointed to start the race in 19th place on row five, alongside Evo Championship riders. Lowry did manage to get himself up to 16th place during the opening lap but was later dropping gradually further back and was forced to park the Yamaha and ending a disappointing debut weekend on lap ten of the 15 lap race.
Lowry is now putting the weekend behind him and is looking forward to getting back on his usual pace at Cadwell Park in three weeks time on Sunday, May 23.
Ulster Star
07/05/2010