A bundle of joy sent from their little angel
Couple celebrate birth of son after anguish of loss
by JENNY MONROE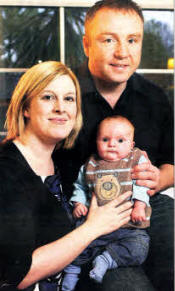 LIKE any new parents Moira couple Mags and Barry White are celebrating the birth of their son - but when they look into their baby's eyes they will always think of him as a gift sent from their little daughter who passed away.
Mags and Barry are the proud parents of Charlie Maurice who was born 10 weeks ago weighing a healthy 7Ib 9oz. But the couple's happiness comes after an agonising period of grief following the death of their baby daughter Megan.
Megan was born at 26 weeks in September 2007 after Mags developed pre-eclampsia. She weighed just 1lb 2.5oz, the smallest baby in the country at that time.
Megan fought bravely for six months and four days before her lungs failed on March 30 2008. The infant spent her short life between the Royal and Craigavon hospitals with her proud parents never able to take her home.
As fate would have it, on the first anniversary of Megan's death, Mags received the news that she was pregnant again.
"We said Megan would send us a wee brother or sister and she did. A year to the day she died I found out I was expecting" Mags said.
On the day of Megan's anniversary the couple had visited Megan's grave before getting the pregnancy results over the phone.
The couple were thrilled but they also knew that Mags' pregnancy would have to be closely monitored. After enduring daily injections, steroids and regular examinations at the Royal Victoria Hospital, "a small price to pay" said Mags, baby Charlie was born by elective c-section on November 23 2009. His middle name is after his grandfather Maurice, Barry's father, who died four weeks to the day before Charlie was born.
"It's all about life and death and Charlie has brought us so much joy. He really has lifted all of us" Mags said.
"I really hope people who have faced similar situations like me and Barry don't give up hope . There is light at the end of the tunnel."
Ulster Star
05/02/2010