Abandoned by the MoD
WIDOW OF SOLDIER HAILED A HERO TELLS OF LACK OF SUPPORT FOR FAMILY
Donaldson pledges: `I will ensure Brenda's voice does not go unheard'
by JULIE ANN SPENCE
The minute a soldier is killed in action their wages stop. Questions are actually asked about whether they were killed in the morning or the afternoon'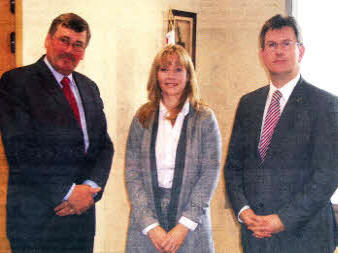 THE widow of Dromara soldier Captain Mark Hale, killed as he and a colleague tried to help a third soldier injured in an explosion, has spoken for the first time about the difficulties she has faced since her husband's death and the lack of support she and her family have had from the Ministry of Defence.
Brenda Hale travelled to London recently with Lagan Valley MLA Jeffrey Donaldson to meet Secretary of State for Defence Bob Ainsworth to express her distress at the way her and her two daughters have felt abandoned since the death of her husband in August last year.
Captain Hale and Rifleman Daniel Wild, both of the Ballykinler-based Second Battalion, The Rifles, were killed by a bomb blast in Sangin as they tried to help a third soldier, Lance Bombardier Matthew Hatton (23) of the 40th Regiment Royal Artillery, injured in an early explosion, to a waiting helicopter. Captain Hale, who was hailed as a hero, died of his injuries in hospital at Camp Bastion.
However, Mrs Hale has said the support she has since received is certainly not that befitting the family of a 'hero' and is calling on the MOD to review the systems currently in place and urged them to extend the Military Covenant, which pledges to support soldiers, to their families.
"When Mark was killed in action the military was fabulous at arranging the repatriation and funeral," explained Mrs Hale, but the financial support afterwards is terrible.
"I didn't know until just after Mark died that the minute a soldier is killed in action their wages stop. Questions are actually asked about whether they were killed in the morning or the afternoon.
"When a British soldier is killed in action the family are given £20,000. When an American soldier is killed in action his family receive $1million.
"Mark had a small life insurance policy which he paid for and a pension he paid into but the government refuses to insure soldiers on active deployment," she continued. "We are losing 12 or 13 soldiers a month, what about their wives and children?"
Mrs Hale, who is still struggling to come to terms with the loss of her beloved husband, says more must be done to support the families of those who have given their lives for their country.
"A Visiting Officer was assigned to me when Mark died," she explained. "He takes you through the repatriation, the funeral and helps with the financial side of things. Four days after Mark died my Visiting Officer (VO) was sent to Afghanistan.
"I was allocated another VO but then we lost another soldier and he had another family he needed to help. 84 soldiers have been killed since Mark died and the VOs have to come from very stretched resources."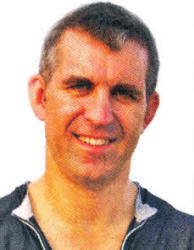 The worry surrounding finances and the lack of support from the MOD have only added to the trauma that Mrs Hale and her family are suffering and she is determined to see changes in the system to ensure other families are not left without the support they desperately need.
"It exacerbates the grieving process," she said. "As an army wife you learn to keep it dropped by the MOD.
"Gordon Brown is making widows and he needs to step up and face his moral obligation."
Mrs Hale also called on the MOD to change the means by which the Elizabeth Cross, which is awarded to the families of soldiers who have lost their lives on active service, is assigned.
"The Elizabeth Cross isn't given automatically, the family has to apply for it" Mrs Hale said. "A lot of families are too distressed to even think about it. They don't want a medal, they want their loved one back. When your husband is put in a box the medal should be available."
Speaking movingly about her husband Mrs Hale said:
"He continues to inspire me and inspire my children, friends and soldiers. Sometimes I wonder why he hasn't phoned me, my heart stops and I think something terrible must have happened. And then I realise it already has."
Mrs Hale was able to put her concerns directly to the Secretary of State for Defence and said she believed he was "actively listening" to her.
She also thanked MLA Jeffrey Donaldson for arranging the meeting with Mr Ainsworth.
"There were a few politicians at Mark's funeral but Jeffrey Donaldson was the one together but we feel like we have been who came back afterwards and asked what he could do to help. Without him I would not have had the opportunity to meet with the Secretary of State at all."
Speaking after the meeting with Mr Ainsworth, Mr Donaldson said he would continue to press the MOD to ensure families of those lost in action got the support they needed.
"I am very concerned about the way in which Brenda has been treated since she tragically lost her husband when he was serving in Afghanistan," said Mr Donaldson.
"When Brenda asked me to arrange a meeting with the Secretary of State I was only to glad to do so because it is essential the government understands fully just how important it is to provide people like Brenda and their children with the support they require at a time when it is most needed.
"Whilst there are systems in place it is clear those systems failed and let her down badly at a time when she desperately needed them.
"The Secretary of State listened very carefully to what Brenda had to say and has promised to undertake a review of those services and investigate what went wrong. "I am hoping to follow these matters up with the MOD and will ensure that Brenda's voice does not go unheard."
julieann.spence@ulsterstarco.uk
Ulster Star
23/04/2010