Family heartbroken as young bride passes way on Christmas day
by JENNY MONROE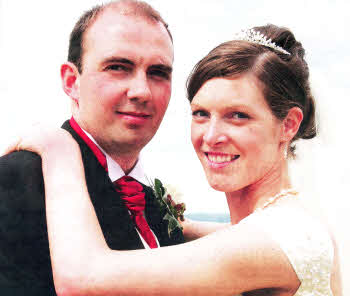 THE heartbroken family of a young Hillsborough bride who died on Christmas day have spoken of their beautiful sister and daughter.
Caroline Niblock, 25, died in the early hours of Christmas morning at the home she and her husband of five months Alan shared in Rockcorry, County Monaghan, where Alan's family live.
The couple had been eagerly looking forward to Caroline's parents, Helen and Ronnie Coulter, coming to visit to celebrate Ronnie's birthday on the Sunday.
Instead of celebrations, preparations were made for Caroline's funeral service at First Ballybay Presbyterian on Co. Monaghan on December 28.
Caroline and Alan were married on July 10 last year in Moira Baptist Church and Pastor Richard Garnham took part in Caroline's funeral service at First Ballybay with the local minister, Rev William Buchanan.
Caroline's father Ronnie paid a moving tribute and her younger brother William read a poem which he had composed. Over a thousand mourners attended the service with the church packed to capacity and many people standing outside.
The news of Caroline's death has shocked the community around Ballyknock Road, Hillsborough where the Coulter family live. Caroline attended both St John's Primary, Hillsborough and Donaghcloney Primary School. She finished her education as a pupil of Dromore High School and went to work as a Nursery assistant at First Steps Nursery, Lisburn. While working she took night classes at Lisburn College of Higher and Further Education and was awarded with both a certificate of Early Childhood Studies and a cache Diploma in Early Childhood Studies.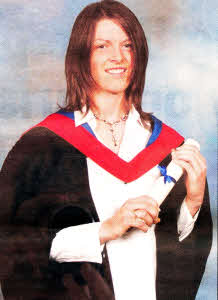 Her mother Helen explained that Caroline loved working with children saying: "God give her a very special gift, and that was the way she could communicate with the children. She loved her work, working in the nursery."
Paying tribute to her daughter Mrs Coulter said Caroline had always made the most of life.
She said: "James, her older brother, says he could not have had a better sister, she made such an impact on people she met, but never as much as her two brothers.
"25 years is such a short time to be on this earth, but Caroline made the most of it. She was diagnosed with epilepsy at 9 months, and grew up never complaining of her condition. She would say to me, 'Mum there are others worse than me.
"She enjoyed life and although she was not perfect by any means, it was a pleasure to watch her blossom into the beautiful young Christian woman. She give her life to the Lord when she was five years and continued to grow stronger in her faith."
Mrs Coulter added: "We are heartbroken and I miss my daughter and friend, but we know that someday we will see her again in our Heavenly home."
Caroline was laid to rest in the adjoining burial ground and family flowers were placed on her grave.
Donations in lieu of flowers are being sent to The Cystic Fibrosis Unit at Belfast City Hospital and cheques made out out to Cystic Fibrosis Unit (BCH), can be sent to her parents' address, 20 Ballyknock Road, Hillsborough, Co Down, BT26 6EF This was a cause close to Caroline's heart as she has two cousins who suffer from the disease.
Brother William composes poem for beloved sister
William Coulter, Caroline's younger brother composed poem and read it at her funeral.
A Tribute to my wee sister Caroline
In the car the young couple drove along
Not a name in their head till a song came on
'Sweet Caroline; Caroline it would be
Then born the only girl in the family
With the most endearing smile and frizzy hair
Was brought up with the greatest love and care
A time like this words aren't easily found
Sometimes its just good to know friends are around
A daughter, a wife and sister will be missed
And as you can see countless more on that list
Cause Caroline was full of good and plenty of craic
She had her burdens but they never held her back
Alan seen in her what we all knew
We watched with joy as their love grew
Till the day she was happiest most
The day Alan and her had their wedding toast
Our family thank you for every day
For the happiness you brought till she passed away
I might not always have been in touch
I hope you knew you were loved so much
Ulster Star
08/01/2010