1£million restoration project gets underway at Lisburn Cathedral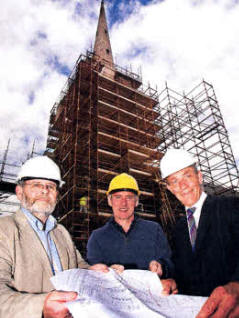 A MAJOR 1 million refurbishment and restoration project has begun at Lisburn Cathedral, the oldest and one of the most recognisable buildings in the City.
The Cathedral has been the focal point of Lisburn since its creation in 1623 with the current church dating from 1708 and the present congregation hope that the refurbishment will allow the church to carry on in its role in serving the people of Lisburn for many years to come. On behalf of the Select Vestry, Paul Duggan, Glebe Warden, explained why church members decided to embark on the ambitious scheme. "We have been blessed with the use of this spectacular cathedral and we feel it is our duty to maintain this building for many generations to come, to enjoy and take pleasure in it as we do today" he said.
"As such an important building in Lisburn we are very aware that it is not just the congregation that will benefit from this, but the wider community as we intend to open up this historic building by making it more accessible for all to enjoy."
Phase one of the refurbishment has already begun and will include the repair of the spire, replacement of the weather vane, re-pointing of all the stone work, repair of the stunning east facing stain glass window and partial replacement of the roof.
Phase two will focus internally and will include a sound and vision upgrade, a new lighting system and redecoration.
The primary aim is to make the space more user friendly. Completion of phase one is expected October 2010 with phase two expected to finish next Spring.
Funding has already been secured from Environmental Heritage Services, Listed Places of Worship and Pilgrims Trust while the rest of this extensive restoration will be funded by the Cathedral's own resources.
The refurbishment has also managed to uncover a piece of the past when a time capsule was discovered planted in the spire. It is expected that this will be 'unearthed' in the very near future and members wait with baited breath to discover what it contains.
Canon Sam Wright, Rector of the Cathedral, said this was a very exciting time for all connected with the parish.
"We have prayed, discussed and engaged in a process of consultation, carrying out an extensive survey gleaning the views of parishioners and those who live, work and shop in Lisburn," he said. "We have listened closely to their opinions as to how best we can develop the Cathedral and its ministries.
"Our vision is to demonstrate more fully the love God has for people in this generation, for our children and grandchildren as we open our doors, both physically and spiritually, and truly become a welcoming place which strives 'to work for the peace and prosperity of the city' (Jeremiah 29:7).
"We hope to provide a venue for special Civic and School occasions, for musical evenings, times of encouragement for those in the business community and to expand and further develop events that allow us to engage in Christian teaching and outreach.
"As a church community, we desire to contribute in practical and valuable ways to the people in our local community and under God's guidance we aim to open wide the doors of the Cathedral and create a two way flow from our Church to our City and from our City into God's Church."
Ulster Star
21/05/2010