Local solicitor loses three stone and gains another job
A 27-YEAR-old Moira solicitor has lost over three stone and has now gained another job.
Catherine O'Neill, who in seven months slimmed down from 13 stone 11.51b to 10 stone 51b through Slimming World was so impressed by the results that she is now starting a Slimming World class of her own.
And it's all thanks to Catherine's sister Lisa who wanted to lose weight for the summer and asked a reluctant Catherine to keep her company at the Finaghy class.
Catherine never felt she had a weight issue and even kidded herself into thinking that she was a size 14 but in reality - as much as she hated to admit it - she was a size 16.
"I think I was fooling myself about my dress size to be honest," she said. "l absolutely refused to consider trying on anything a size above what I considered myself to be, even when it was obvious that was why something didn't fit! I just blamed the manufacturers, or the styles, never myself."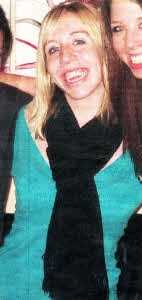 Some months later, Lisa persuaded her to join a slimming club with her. With thoughts of summer holidays in mind she agreed, with one goal in mind — to lose weight in time for August. Mentally she had already prepared herself for a few months of deprivation but was consoled by the prospect that she could go back again to her bad ways after the summer.
"I really love my food and couldn't stand the thought of being on a diet' long term'," she explains. "I also thought of myself as being a fairly healthy eater who could perhaps stand to lose a few pounds, but I believed that no slimming club would give me a really dramatic weight loss."
Catherine and her sister began Slimming World's Food Optimising plan and the local woman lost 3 and a half pounds in her first week. She received an award for losing her first stone just six weeks after joining.
Catherine's unhealthy habits including bingeing on chocolate, crisps, fizzy drinks and white bread were swapped for things that filled her up like salad, pasta or potato salads and when she felt the urge for chocolate she ate Kit Kat fingers rather than a whole Snickers bar. She even had Slimming World chips for dinner.
"l never felt deprived," she said. "I really think that staying at my group every week for Image Therapy was a major part of my success. It gave me a chance to get to know the other members of my group and the opportunity to benefit from their ideas and tips.
"I've realised now that Slimming World is all about setting eating habits for life, and enjoying it. It's unrealistic to think that you'll never have a glass of wine or bar of chocolate again, and that's why Slimming World allows you to have both, if you want! That's why it's worked so well for me."
Catherine reached her target weight in December and when the opportunity came up to start her own group, she jumped at the chance.
"Something that started as a short term plan, with no expectation of significant results, has now become a huge part of my life. There is not a day that goes by that I don't feel grateful for Slimming World and all it has done for me," she said.
When she hit the sales to buy clothes this year she was amazed at the results.
"I wasn't only looking for loose-fitting, floaty clothes and so my choices were endless," she said, "The problem came in trying to choose between the armfuls of clothes I liked, all three sizes smaller than last year and all zipping up perfectly.
"I was so happy in the changing room that I actually did a wee dance in front of the mirror, smiling like mad! It's impossible to find the words to describe that amazing feeling, so instead I am looking forward to helping people reach their own weight loss goals, so that they can understand exactly what I'm talking about for themselves."
Catherine's first Slimming World group is opening in the Laganview Enterprise Centre on Thursday January 28 at 7.30pm.
Ulster Star
22/01/2010