Minister helps Causeway Meadows kids celebrate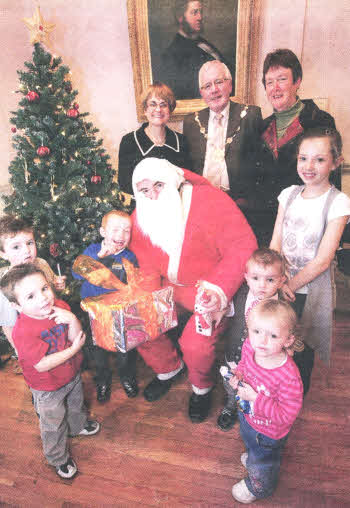 Minister for Social Development, Margaret Ritchie and Councillor Alan Ewart, Mayor of Lisburn, joined Santa and Chair of Clanmil Housing, Joan Baird to wish children from Clanmil's Causeway Meadows scheme a merry Christmas at a party to celebrate the scheme's recent success at the UK Hosuing Awards.
CHILDREN living at Lisburn's award winning Causeway Meadows development were joined by two special visitors at a Christmas party held by Clanmil Housing this week at the City's Linen Centre to celebrate the scheme's recent success at the UK Housing Awards.
As well as Santa, Minister for Social Development, Margaret Ritchie MLA, joined in the fun to congratulate families living at the scheme which won top prize for Outstanding Achievement in Housing in the UK. The Chartered Institute of Housing award recognises Clanmil's success in achieving shared future status at the scheme.
Congratulating the families for their part in the success of this inspirational scheme, Margaret Ritchie said; "It is wonderful to meet up again with the families of Causeway Meadows eleven months on and to find such a settled and cohesive community so at ease with itself and its neighbours in the wider housing development. When I launched Causeway Meadows as a Shared Future housing scheme at the start of this year I knew it bore all the hallmarks of a vibrant sustainable community that viewed diversity as a strength."
Clanmil Chief Executive, Clare McCarty, herself a Lisburn resident, was delighted that so many Causeway Meadows families had come along to celebrate. She said: "Causeway Meadows residents have set an example for all of us in Northern Ireland. They all share a common goal - the desire to live and raise their families in a peaceful and secure environment, respecting their neighbours."
Causeway Meadows tenant, Julie Ann Montgomery, who enjoyed the party with her two young sons, added: "We were all delighted to hear that our scheme had won the award. We've settled in really well at Causeway Meadows. It's a lovely place to raise my boys."
Ulster Star
01/01/2010