Charity match at Rushmore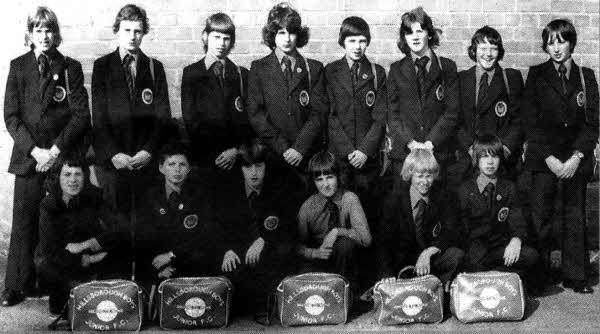 A Hillsborough Boys team from the early 70's. Some of them will be playing on Saturday.
SOCCER stars from the past like Gary Blackledge, Paul Mooney, Billy Caskey, Tom Cleland and Glenn Hunter are donning their boots again.
A host of former players are set to play in a special fund raiser organised by Hillsborough Boys Club on Saturday, May 22.
Local fans are urged to come out in force to see Glentoran Legends take on Hillsborough Boys 40th Anniversary Select at The Bluebell, Rushmore Drive in Lisburn. The match kicks-off at 2.00pm. The match will help raise funds for the Northern Ireland Cancer Fund for Children and the club hopes for a great turnout to see the 'legends' roll back the years.
Lining up for the Glens will be Neil Armstrong, Rab McCreery, Tommy Leeman, John Devine, Gary Smyth, Chris Walker, Jim Cleary, Tom Cleland, Gary Blackledge, Barney Bowers, Billy Caskey, Gary Hillis, David Keery, Johnny Jamison, Raymond Morrison and Andy Mathieson.
For Hillsborough Boys there is Michael McFarland, Ian McDonald, Gareth McDonald, Alan Hanna, Colin Mcllwrath, Paul Mooney, Des Marley, Gerard McMullan, Alan Moore, Mark McNaught, Andy Farr, Jackie Thompson, Andy Chapman, Trevor Boyd, Darren McKinley, Davy Armstrong, John Kennedy and Glenn Hunter.
Ulster Star
21/05/2010