TRIBUTES PAID TO TEENAGE ROAD VICTIM
Friends 'devastated' by death of Glenavy boy
by JULIE ANN SPENCE
`He made sure everyone was involved and didn't like people to be left out. He was always very concerned about other people.' Mrs Therese Hamilton Principal Rathmore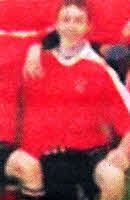 TRIBUTES have been paid to Rathmore Grammar School pupil Christopher McCloskey, who was killed in a tragic car accident on Wednesday.
Christopher, 17, from Glenavy, died after the Peugeot 306 car he was driving was involved in a collision with a Toyota Land Cruiser at the junction of the Glenavy Road with the Kilcorly Road, Hungry House Lane, School Lane and Whinney Hill at about 3.20pm on Wednesday (March 31). A 59-yearold man was taken to hospital after the collision, however his injuries are not believed to be life-threatening.
Rathmore Grammar School principal Mrs Therese Hamilton said Christopher was a "very popular pupil" who was well liked by everyone at the school.
"People gravitated towards him," she said. He had a quiet manner but he wasn't shy. He was very inclusive and made sure everyone was involved and didn't like people to be left out. He was always very concerned about other people.
He was a great representative of the school and he was very dependable. He enjoyed his A level subjects - art, technology, physics and maths. He was very creative and a very talented artist. He also enjoyed music and was a great sportsman, who loved to ski.
"His friends are too devastated to even speak," she added. Christopher was also a dedicated member of St Joseph's GAC and had played for the club since he was a young child.
Terry Cormican from the club said everyone was "devastated" by the loss.
"He was very highly thought of at the club," said Mr Cormican. "He was a very quiet, unassuming lad and everyone is just devastated.
"He had played at every level of the club, from under 8s to senior level. He was here from when he was a child and he was very dedicated to the club.
"He was a friend to everyone and will be sadly missed by his many friends and fellow players and minor management. Chris's father Noel is a member of the minor management.
' The club officers, members, team managements and players offer their sincere condolences to his father Noel, his mother Deirdre, sisters Fionnula and Ciara and the McCloskey and McAreavey families." Christopher's funeral will be held on Sunday (April 4) at 1 pm.
Calls for action after road death tragedy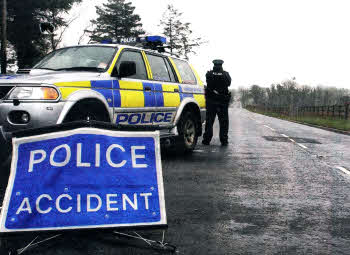 HERE have been calls for improvements to the Glenavy Road following Wednesday's tragic accident.
The Chairman of the Glenavy Development Partnership said his organisation had been campaigning for improvements for over twenty years.
And he said while the circumstances of Wednesday's tragedy had still to be established, local people had long had concerns. This is a terrible waste of life" said Mr Largy. "I hope something is now done to improve the safety of the road before anything else happens. It is a shame that a life has to be lost before anyone listens."
Killultagh Councillor Alderman Cecil Calvert echoed Mr Largy's sentiments, saying that he has been trying for some time to have the sightlines at the junction improved.
"I have asked Roads Service to splay the sightlines at that junction because you cannot see a thing," said Mr Calvert. "It is a fast stretch of road and it is difficult to judge the speed of cars.
"I have feared for many years there would be an accident at the junction and dreaded that a life would be lost.
"I would express my condolences to the family of this young man," he continued. "It is very sad to think a young man of 17 years of age has lost his life.
"My thoughts and prayers go out to the family at this particularly sad time."
julieann.spence@ulsterstar.co.uk
Ulster Star
02/04/2010