Circus goes head over heels after lottery windfall
by JULIE ANN SPENCE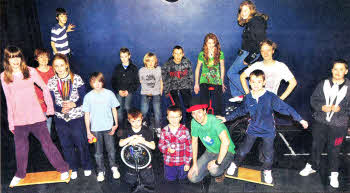 Community Circus Lisburn's project manager Paul Quate with the circus performers, who will benefit from Big Deal funding in relation to the Defying Gravity project. US0410-405PM Pic by Paul Murphy
LISBURN'S Community Circus is doing cartwheels this week after receiving a windfall as part of the Big Lottery Fund Big Deal Small Grants Programme.
The community circus group based in Lisburn's Island Arts Centre received £2,500 towards trapeze equipment for would-be acrobats like David Hunter, 16.
A sixth former from the city, he's been involved with the community circus for the last five years and is now one of the senior members of the club, which is hosted by members of the Belfast Community Circus to travel to Lisburn once a week to take the lessons.
"It's been a great way to meet new friends and I've kept in touch with people, even though they've left to go away to university," said David who has managed to master the Diablo and stilt walking.
"The juggling is more difficult," he continued. "Last year eight of us were lucky enough to travel to Belfast to work on the trapeze with the Belfast Circus School and that's where the idea for this grant came from.
"We'll be using this money towards a portable trapeze which we can use to practice. It's quite a physical activity and requires a lot of upper body strength so it can keep you really fit as well."
Although David said he'd no plans to run off and join the circus just yet, he thinks the skills he's learning now will stay with him for life.
"Even if I'm not able to continue if I go to university, it's still something I'd like to come to as a hobby at some stage," he added.
The good news marks a new milestone for the Big Deal Small Grants programme which has now handed out over £1.2 million to more than 500 projects working with around 23,000 children and young people across Northern Ireland.
The programme allows those up to 25 years of age to apply for an award between £500 and £2,500 towards a project where they get to decide what it is they want to do, when, where and how.
julieann.spence@ulsterstar.co.uk
Ulster Star
05/05/2010