Connie comes home to see some of her favourite things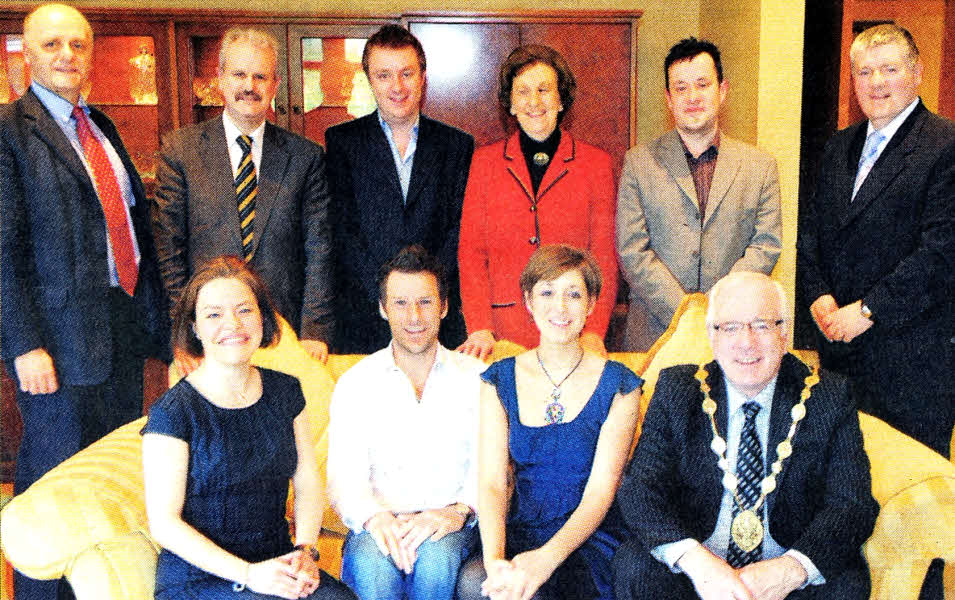 At the civic reception for Connie Fisher in Lagan Valley Island.
| | |
| --- | --- |
| | |
| Connie pays a visit to her former Lisburn home. | Connie visits the site of the former Garrison Church where she was baptised. |
LISBURN born Sound of Music star Connie Fisher had one last door to knock and a bell to ring before leaving Northern Ireland on the next leg of the UK tour.
Connie, who had been in Northern Ireland for the Sound of Music production which was staged at the Grand Opera House this month, called to see the home she was born in at Thiepval Barracks in Lisburn and the site of the former Garrison Church were she was baptised.
Her father served with the Royal Signals Regiment in Northern Ireland in the early 80's and Connie has fond memories of her early years in Lisburn.
| | |
| --- | --- |
| | |
| Connie Fisher and John Kelly. In November 2006, John attended the opening night of the West End production of the Sound Of Music at the London Palladium. | Connie strikes up the 'Hills are Alive' pose at Lagan Valtey Island. |
This has been her first visit back to Northern Ireland since leaving as a child. During her time here she also took the opportunity to visit Friends Prep school, who were staging The Sound of Music, and met with Lisburn Mayor Councillor Allan Ewart.
During the Mayoral reception she met representatives from Lisburn City Council, including Councillor David Archer and Councillor Thomas Beckett, Chair and Vice-Chair of the Leisure Services Committee. Representatives from the Lisburn Arts and Advisory Committee were also in attendance, with Council Officers.
"I am very pleased to meet Connie," said Lisburn Mayor Councillor Allan Ewart. "Like many of us I have seen her career take off initially from the BBC show and then spiral. I know Connie has not lived in Northern Ireland throughout her life, but we hope that her return to the Province has been good and Connie can always be assured of a warm Lisburn welcome if and when she comes back. I would like to express my thanks to Connie for taking time out of her busy schedule to meet with us, and to wish her all the very best for her future career."
Speaking after her visit to the city, Connie commented: "It was great to be able to take some time off to come back to Lisburn where I spend my early years. I have some very good memories of my early days in Northern Ireland and my friends at school in Lisburn before we moved away."
| | |
| --- | --- |
| | |
| Brian McDowell (LCC Volunteer) with Connie Fisher. | Connie waves 'So long, farewell' as she leaves Lagan Valley Island following a Civic Reception in her honour. |
julieann.spence@ulsterstar.co.uk
Ulster Star
26/30/2010