Army photographer snaps first prize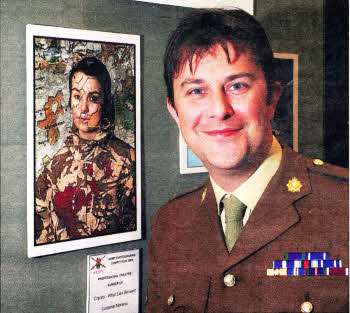 A LISBURN based soldier is celebrating after snapping up first prize in an Army photographic competition.
Corporal Gabriel Moreno picked up the honour for the best creative digital image and followed up the success by scooping the runner-up prize in the same category for his jigsaw-effect image of a soldier in front of a map of Afghanistan.
His muse for the winning entry is also based locally and is currently stationed at RAF Aldergrove.
Cpl Moreno, who is the photographer for 19 Light Brigade and is based at Thiepval Barracks in Lisburn, also received £400 cash, for his winning entries. He received the awards from General Sir David Richards, head of the British Army, during a ceremony at the Imperial War Museum in London.
Cpl Moreno, who has been based in Lisburn since September last year, has been a photographer with the army for the past I8 years. He has been stationed in Lisburn several times over the years and admits he has seen a big difference in the city since he was first here in the early 90s.
Explaining the premise of the winning entry, he said: "It started as a challenge and I started playing with the idea of a jigsaw, liked the images and just carried on. The digital category shows, that it's not all about operational images and we can turn our hand to most things.
"This competition allows the public to see what we do because although they see pictures in the press they don't always realise they've been taken by an Army photographer."
julieann.spence@ulsterstar.co.uk
Ulster Star
05/02/2010