Public are urged to blow the whistle on Lisburn drug dealers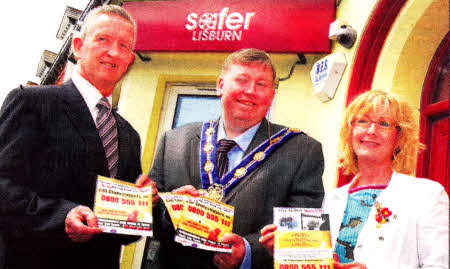 At the launch of the Lisburn Crimestoppers Campaign are from left: Stephen McCracken Safer Lisburn, Deputy Mayor Cllr. Paul Porter and Susan Brew Regional Manager Crimestoppers
CRIMESTOPPERS has teamed up with Safer Lisburn Community Safety Partnership to launch a major campaign in the area encouraging residents to report any information on drug dealing through to the anonymous Crimestoppers telephone number 0800 555 111.
At the campaign launch Susan Brew, regional manager of Crimestoppers, said: "Crimestoppers is not the police. It is an independent charity which exists to give communities the opportunity to report criminal activity in an alternative way."
Crimestoppers was established in Northern Ireland in 1996 from which time they have processed more than 22,000 actionable calls leading to over 1600 arrests. Stephen McCracken, Safer Lisburn commented: "Drug dealing is an issue which concerns local communities and Safer Lisburn is delighted to be involved in this partnership with Crimestoppers which aims to reduce the impact of drugs on those communities by encouraging the reporting of illegal drug activity."
Over the next four weeks, around 25,000 homes in the Lisburn City Council area will receive a leaflet which sets out how residents can report drug activity in an anonymous way to Crimestoppers.
The campaign will also utilise LCD displays around the city as well as local media outlets.
Ulster Star
28/05/2010