Crumlin man to run length of Britain for charity
by MARY MAGEE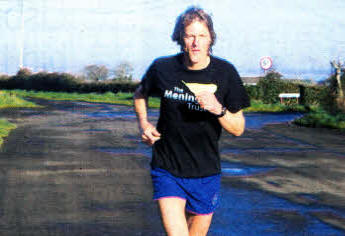 A CRUMLIN man who suffered from meningitis as a baby is planning to run 900 miles from Lands End to John O'Groats in just 16 days to raise money and awareness for the Meningitis Trust.
David Flowerday (55), from Largy Road, was just three-months-old when he was diagnosed with meningococcal meningitis. He spent 19 days in an isolation ward in Purdysburn Fever Hospital in December 1954 after showing signs of the condition at home. He was sick, feverish, made strange cries and when his eyes rolled back into his head the family doctor advised them to take him to the Children's Hospital in Belfast. The condition was considered so contagious that when he was first diagnosed at the Children's Hospital, he had to travel by car to Purdysburn as the hospital would not allow their ambulances to carry patients with meningitis.
David made an astonishingly full recovery with no side effects.
"My mother said that if anything the meningitis sharpened my brain as I could read and tell the time at an earlier age than anyone else in my family," he said.
David, now a landscape gardener, has done several events to raise money and awareness for the Meningitis Trust. Two years ago he ran around Lough Neagh and he also took part in a tread mill run at Bow Street Mall in 2005.
But this latest run will be his toughest challenge yet.
"To train I run up to 90 miles a week - three 30 miles runs," he said. "I am training harder than I have ever had to before. I don't even like to think about how much I will have to do - but it will be like something like doing two marathons a day when I do the 900 mile run.
"I put on a boulder in a ruck sack on my back to hike to build strength in my legs and I have done a lot of gym work too.' When he leaves Lands End on May 1 he will be joined by girlfriend Wendy Mackimmon, who will be following him in a vehicle. Wendy, an adventurer, has been to the South Pole and Antarctica and met David while doing a run in Derbyshire in England. You can follow David's daily progress at www.justgiving.com/David-FlowerdayLejog For more information on meningitis log onto https://www.meningitis-trust.org
Ulster Star
16/04/2010