Motorist convicted of causing death of top Lisburn cyclist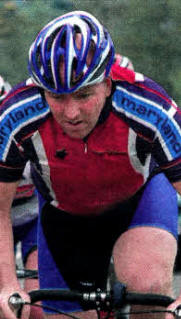 A SPEEDING motorist hurrying to catch a flight from Belfast's International Airport has been convicted of causing the death of David McCall, the top International racing cyclist from Lisburn, by dangerous driving.
The 46-year-old Commonwealth Games medallist died almost instantly after his bike was hit by the black 308 Peugeot car of Michael Gerard Croome during a cycle race on August I2, 2008.
The 26-year-old former call-centre worker with an address on Belfast's Cliftonville Road - but who also lived in Prior Warf, Chester while working at another centre in England - had denied causing his death by dangerous driving.
Croome, who has convictions for speeding and later disqualified from driving for six months, was freed on continuing bail and will be sentenced later.
It had taken the Antrim Crown Court jury of I0 men and two women six-and-a-half hours over two days to convict Croome by a majority of I0 to two and reject his case that he was not driving too fast or close to the cyclists as they raced along the Belfast Road at Nutts Corner.
They had heard that the cyclist, who'd represented Northern Ireland at major international competitions for decades, had just completed the first lap of the nine-mile course in the road race between Maryland Wheelers and the Phoenix Cycle club.
Mr McCall, who was in the second group of racing cyclists, was also second last in the line of six bikes when he was struck from behind as they raced towards the Nutts Corner junction.
Croome's case was that he was driving at between 40 and 50 miles an hour, and that the accident occurred after Mr McCall veered into his path while avoiding a small black dog which ran onto the road.
The jury also heard that following the impact between Mr McCall's cycle and Croome's overtaking Peugeot car, the bicycle was snapped in two and Mr McCall was thrown into the air.
However, while the site of the actual impact is unknown, a forensic expert estimated that he could have been thrown anywhere from almost 60 to nearly 90 metres after bouncing off the windscreen of the Peugeot.
Mr McCall, a father of two, worked as a Civil Servant, and held a long list of honours. He competed in four Commonwealth Games before setting up his company 'SportActive' which offered cycling and walking activity breaks in Europe.
In the week that Croome was convicted the David McCall CyclingFoundation, which was established to promote cycling in Ulster and keep David's name alive, announced three major awards. The foundation will be supporting two Womens Training Camps in the 'near future and will also be the main sponsor for the Cycling Ulster team in this year's international Tour of the North cycle race at Easter. It consists of four members of Maryland Wheelers, one member of Phoenix CC, a representative from Cycling Ulster and David's daughter Emma McCall. Funds have been raised by the cycling fraternity from throughout Ireland and abroad.
Cycling Ulster Chairman Tommy Lamb paid tribute to Mr McCall after last week's verdict.
"Davy was a legend in Irish cycling. He was a top international rider who represented both Northern Ireland and Ireland on the world stage. Not only was he a top sporting star but he was also a very down to earth person, easily approachable and willing to pass on his knowledge and skills to a new generation of racing cyclists" he said.
"Many top athletes leave their sport when they retire but Davy was passionate about cycling and continued to race at a local level with his Lisburn based Maryland Wheelers club. Not only that but he also qualified as a commissaire (cycling referee) and gave freely of his time in helping to organise races throughout the country. I knew Davy for almost 30 years and he was a perfect gentleman and a role model for all aspiring athletes. He had time for everyone from the complete novice right through to our professional riders. "
Mr Lamb said Cycling Ulster has just established an ad hoc Safety Committee to raise awareness about speed on the roads and the rights of all road users including cyclists.
Ulster Star
26/02/2010