Lisburn woman's story move Denise to tears
by JENNY MONROE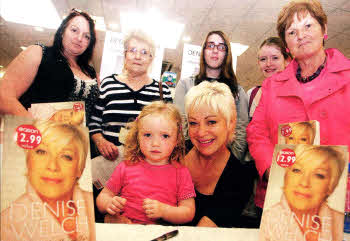 1T'S not often actress Dense Welch is moved to tears. But that's what happened when she spoke to a Lisburn woman when she was at Eason's in the city to sign copies of her candid autobiography 'Pulling Myself Together' last week.
In the book Denise talks about her battle with clinical depression. She said that while here she had been approached by a woman who told her she too had suffered from depression.
The actress explained: "The woman said she had got no sympathy from her mum when she suffered severe depression when her child was born. The other day she bought my book for her mother and after she read it, the mother hugged her daughter for the first time because she realised what her daughter had been through. A lot of people just don't understand. It really choked me up."
Denise's book has been flying off the shelves - it's been the top of the national bestsellers now for several weeks - and in it she opens up over her long battle with clinical depression and confesses that she used cocaine during her time on 1TV soap Coronation Street.
Over 100 fans turned up to the store to meet Denise. The star said she was overwhelmed by the lovely comments and warm welcome she had received during her time in Lisburn.
Speaking about the controversy her book has created Denise said: "I'm nothing if not open -especially on programmes like Loose Women, which has given me the sort of profile where people can speculate on your life. I am in the public eye and so I thought I better tell the real story myself."
She continued: "When I was approached to do this, initially I was going to write a book about my battle with clinical depression.
As I started to write, I realised that I couldn't really write about my condition without leading the reader down the dark paths that it took me to."
Talking about her life today Denise says she is a "work in progress" but in a good place.
Ulster Star
/201028/05