Well, is there anybody there?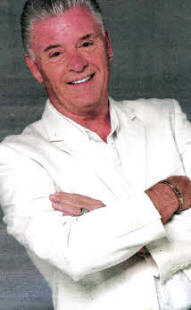 DEREK Acorah brings his hugely entertaining psychic abilities to Belfast Waterfront on Saturday March 6.
Hailed as the UK's No. 1 Spirit Medium, Derek's television shows have been beamed all over the word. He first shot to fame as the resident medium for Living TV's Most Haunted where he investigated haunted properties, before starring in Ghost Towns, Most Haunted Live and, most recently, in Derek Acorah -his own show for Sky Real Lives.
Derek's first book - The Psychic Adventures of Derek Acorah - spent an unprecedented I4 weeks in The Sunday Times Best Sellers list, while his subsequent books also became best sellers. These include: Ghost Hunting with Derek Acorah, Derek Acorah - Haunted Britain, Derek Acorah's Ghost Towns, Derek Acorah's Amazing Psychic Stories, Extreme Psychic and Haunted.
Derek had his first psychic experience as a child but admits he was more interested playing football than being a medium. "I didn't reject it," Derek explained when he spoke to the Star ahead of his Belfast show. At that moment in time, at the age of 6, all I wanted to be was a professional footballer. I didn't want to see ghosts." Derek proved himself on the pitch and was signed to a professional club. 'That was at the forefront of my mind but at the back of my mind I was still seeing things that weren't normal," he continued.
"I played football until I was 26 and got a knee injury. I was told my knee was too far gone to play professional football anymore. I was absolutely gutted and I didn't know what to do.
"I finished my days in football in Australia, flew back to England, took the bull by the horns, starting practising and giving readings for people. And it worked.
"I never planned anything," he continued, "and I never set out to do things. I didn't seek it out, everything seemed to fall into place, right up to the present."
While Derek became a household name on television shows such as 'Most Haunted', he admits to a real love of live shows.
"I enjoy the theatre more than television," he said. "It's live and there is no script. You get no feedback from cameras but in the theatre you see people's reactions and emotions.
"I love it more now than ever. Every night is different," he added.
If you would like to get up close and personal with Derek, his live show comes to Belfast's Waterfront Hall on Saturday March 6. For further information or to book tickets, contact the Box Office on 9033 4455.
Derek Acorah brings his hugely entertaining psychic abilities to Belfast Waterfront on Saturday March 6.
Ulster Star
26/02/2010