Council joins the battle to save Derriaghy Primary
by JENNY MONROE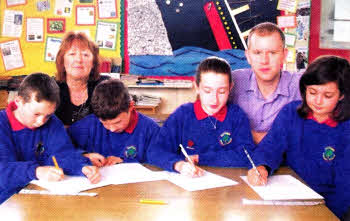 LISBURN City Council has given its support for the retention of Derriaghy Primary School.
At Tuesday evening's monthly meeting Councillor Margaret Tolerton said she was "perturbed by this bombshell" that the South Eastern and Education and Library Board are consulting on the future of the school.
Mrs Tolerton said: "It would be foolish to close it when there will be a demand from the developments on the North Feeder Road. I encourage all Councillors and MLAs to fight and keep the school open."
Councillor Jonathan Craig supported Mrs Tolerton's views. He said if the school is closed there would be an issue of getting the pupils to other schools. He commented: "The issue of transporting the children to other schools must be considered as it is a highly deprived area and there are a lot of single parent families."
Mr Craig said it was important the Board looks into the transport issue before a decision is taken. He then proposed that the Council write to the Education Board and the Education Minister Caitriona Ruane outlining their concern on the matter.
This was seconded by Alderman Edwin Poots and agreed.
Councillor William Ward said he was glad the council was showing its support for Derriaghy.
"We know too well how many local schools have been closed and we know there is a need to retain this school" he said.
He continued: "Small schools don't mean bad education, in fact it can mean just the opposite. This school should be retained at all costs."
Alderman Cecil Calvert, a former pupil of the old Derriaghy Primary school, said: "Ruane thinks she can do what she wants but I think people power should overrule."
Ulster Star
28/05/2010