Local women join the diamond hunt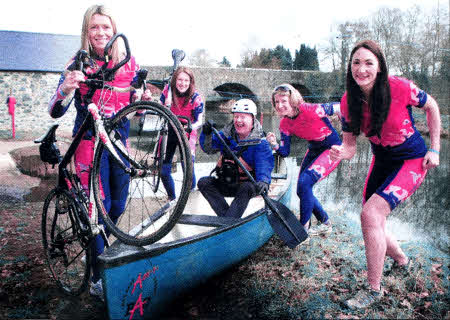 Julian Simmons with (l-r) Julie McCorry, Cathy Thompson (Hillsborough), Andrea Harrower (Dromara) and Taryn McCoy who will run, kayak and cycle their way around the course
THREE local women are among the first to sign up for running, biking and kayaking challenge which is set to push participants to the limit to help a very worthy cause. Diamond Quest Ireland will take place in Newry, Mourne and Carlingford on Saturday May 15 to raise funds for The African Schools Trust. The charity, set up by a Northern Irish couple, supports I,000 disadvantaged Kenyan .children and competitors will not only be supporting the Trust but will have the chance to win a dazzling diamond and a range of cash prizes.
The scenic but punishing race begins with a 15km run from King John's Castle in Carlingford up the Cooley Mountains and across forest tracks, where, from Omeath, kayaks will take competitors 1km across Carlingford Lough to Warrenpoint. From Warrenpoint it's a 45km cycle through the Mournes and back to the finishing line.
Julie McCorry and Cathy Thompson from Hillsborough and Andrea Harrower from Dromara have already signed up. The action packed race to challenge strength, stamina and agility has been designed by Adventure Ireland and Causeway Coast Adventure Racing on behalf of The African Schools Trust.
To find out more and to register, log onto www.eventelephant.com/diamondquestireland, or visit www.diamondquestireland.com, and for further information on The African Schools Trust log onto www.africanschoolstrust.org.uk. You can also call Lucy on 07734 083533.
Ulster Star
12/03/2010