£8 million garden world on track for autumn opening
120 NEW JOBS IN DEVELOPMENT OF 'REGIONAL SIGNIFICANCE'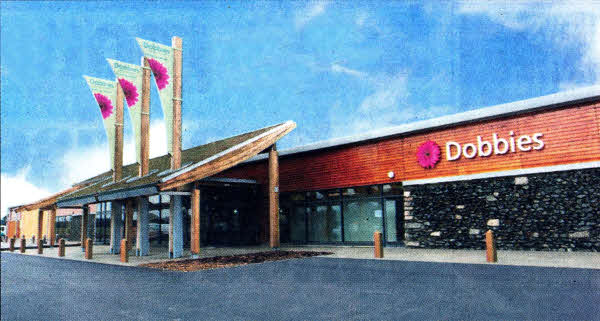 How the new Dobbies store will look when finished
THE £8 million state of the art Dobbies garden world in Lisburn, which will create 120 jobs, is on track for an autumn opening.
The company is currently constructing a 48,000 sq ft centre on a 13 acre site at Strawberry Hill on the Saintfield Road. The timber frame structure is erected, and the cladding will now begin before internal design work commences.
The investment will incorporate an environmentally-friendly garden centre using natural construction materials including a timber frame that will recycle the rain and grey water from the site and provide a wide range of eco products for greener lifestyle features. The scheme will also include a visitor attraction incorporating display gardens and Labyrinth. James Barnes, Chief Executive of Dobbies, visited Lisburn last Friday to see progress on the new centre.
He said: "This project has been subject to very detailed and lengthy discussions with the Planning Service and we were delighted to finally receive a positive planning decision. The local support we received has been outstanding and we are truly grateful for it. This is a project of regional significance in Northern Ireland and we believe that the community and the economy will benefit greatly from the Garden World and the 120 jobs that will be created."
Mr Barnes said they had consulted extensively with local politicians and stakeholders to ensure support for the scheme.
"Dobbies Garden World, Lisburn will deliver substantial benefits to the local and wider Northern Ireland economy" he said. "It represents a forward thinking and refreshing boost to the construction industry and the wider economy at a time when this is much needed and shows Dobbies commitment to the greater Lisburn area and Northern Ireland."
The new centre will incorporate a garden centre with an extensive range of plants, horticulture and gardening products, a locally-supplied Farm Foodhall, a restaurant with deli bar and outdoor terrace offering freshly prepared meals and home-baking, as well as specialist aquatics all under one roof.
The external areas will include an outdoor planting area, themed demonstration gardens, a Labyrinth and "The Greenhouse" visitor attraction.
Welcoming the investment, the Mayor Councillor Allan Ewart, said: "Lisburn City Council is delighted that the very first Dobbies store in the Province is located here in Lisburn, such is the confidence in our City. Lisburn's location on the main Belfast-Dublin economic corridor made it the ideal choice for Dobbies and this investment will bring many construction and retail opportunities to our local economy. I wish all those involved in this exciting venture every success in the future."
Lagan Valley MP Jeffrey Donaldson also praised the scheme: "I very much welcome the dynamic and pioneering approach that Dobbies brings to their shopping experience and also the environmentally-friendly way that they construct and maintain their buildings" he said. "I am pleased to see Dobbies getting started on site as it brings a much needed boost to the local and wider Northern Ireland economy at a difficult time."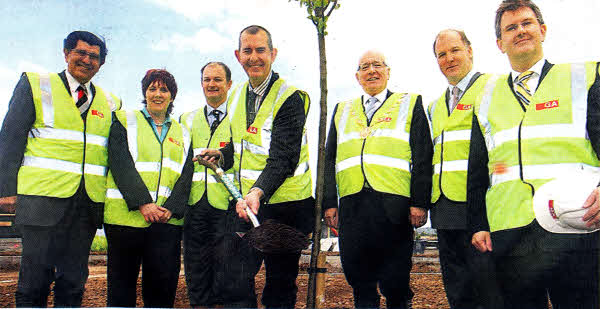 Lisburn Councillors Bill Gardiner Watson, Jenny Palmer, Stuart Wright (Dobbies), Edwin Poots, Lisburn Mayor Alan Ewart, James Barnes (Dobbies) and MP Jeffrey Donaldson pictured cutting the first sod at Dobbies. US2010-109A0
Opportunity for local suppliers to work with new company
DOBBIES says it is keen to engage with local businesses in order to source as many products and services as possible from local suppliers.
The local sourcing initiative will be managed through the Economic Development Unit of Lisburn City Council with companies who have been selected invited to attend a 'Meet The Buyers' event next month at the Island Civic Centre.
Head Buyer at Dobbies, Susan Moore, indicated the business is looking for local suppliers across a wide range of departments.
The products will be sold directly from the Dobbies store in Lisburn. There are additional opportunities for local companies to take on a concession at Dobbies.
Susan Moore said: We are keen to source local suppliers to fill our shelves across all of the departments of our new store. In particular, we're keen to speak to local companies who could provide products which are unique to, and which reflect the heritage and culture of the local community and local area."
Chair of the Council's Economic Development Committee, Councillor Jenny Palmer said: "I would encourage as many local suppliers as possible to submit their details and avail of this fantastic opportunity to develop new sales."
The Council is also working with Lisburn Enterprise Organisation, the Jobs & Benefits Office, and South Eastern Regional College to explore opportunities for bespoke training, student placements, and to maximise the opportunities for local residents to benefit from the new jobs.
Lisburn-based businesses interested in exploring and establishing trading opportunities with Dobbies can contact Nathan Langtry or Patrick McKibbin in the Economic Development Unit for an Expression of Interest Form on 92509390 or email edtemp@lisburn.gov.uk, or Patrick.mckibbin@lisburn.gov.uk The closing date for returned Expression of Interest Forms is 4pm on Friday June 4.
Ulster Star
21/05/2010