Wallace bids farewell to longest serving teacher
CAROL LOOKS FORWARD TO QUIETER LIFE AFTER TEACHING 7000 PUPILS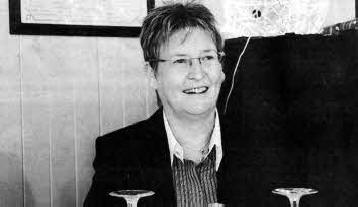 STAFF and pupils at Wallace High School bid a fond farewell to the school's longest serving teacher recently.
Dr Carol Fulton was Head of History and retired after 38 distinguished years in the school.
Dr Fulton was initially employed as a temporary teacher of English and told that she would be staying until that Christmas. However, she remained at the school for nearly four decades. As she said, "The then Head just failed to specify which Christmas."
Having initially been keen for a career in journalism she was "immediately hooked on teaching and loved the job from my first day until my last."
Carol was also heavily involved in activities outside the classroom and advises new teachers to "get involved in extra curricular activities as it gives you a whole different perspective on the pupils and the school." She coached hockey and netball, as well as helping with Community Service, Debating and Public Speaking.
Her love of History and Politics also meant that she was heavily involved in the Junior History Club and the Current Affairs and Politics Society with which she masterminded the visits of the Taioseach and Northern Ireland Secretary of State to talk to pupils. She was also the brains behind the Upper Sixth Christmas Show, Christmas Pie and the Staff Pantomime and it was a fitting finale that she produced this year's show on her penultimate day in school in December.
Explaining her retirement Carol added: "I kept all my roll books and realised that I had taught over 7000 pupils. Enough is enough, so I decided to go when I was still enjoying myself and in good health."
She plans to spend her retirement reading and researching in the Linen Hall Library, as well as possibly going back to music lessons which is another passion as she sings with a choir in Belfast. Interestingly she also started a new activity last summer and plans to continue her "surfing education" this summer.
Carol would like to thank all those at Wallace for making her job, and now retirement, so enjoyable. She said she had always admired the way the school community rallies round in support of each other in times of happiness and distress. Principal Deborah O'Hare echoed the sentiments of all staff in wishing Carol a happy retirement: "It has been a real pleasure to work with such an experienced colleague For, albeit, a short time. Carol Fulton's legacy of concern for young people and her infectious enthusiasm for her subjects will live on in our school. I wish her a long, varied and rewarding retirement."
Ulster Star
05/02/2010