Tributes To Remarkable Doctor
Early heart surgery led June to dedicate life to saving others
by STACEY HEANEY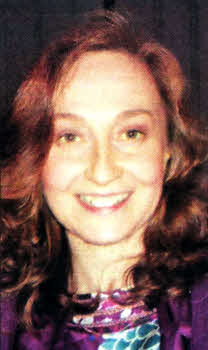 Dr June McKeown who was inspired to be a heart surgeon after a life saving operation at just four years of age.
A REMARKABLE Lisburn woman who was inspired by being the first young person in the UK to receive a heart valve transplant using human tissue at four years old to become a heart surgeon who dedicated her life to saving others and the first female to qualify as a Cardiothoracic Surgeon in Scotland has passed away at the age of 44.
Dr. June McKeown MB ChB, FRCS (C-TH) passed away in the hospital where she worked in Glasgow on May 5.
June, who was described by her family as a "remarkable and unique person", first became ill just a few months before she was due to start St Aloysius Primary School and when she was admitted to the City Hospital it was determined she would need heart surgery to replace her mitral valve.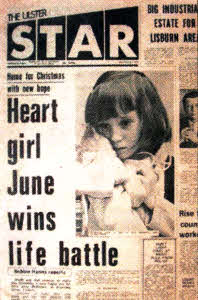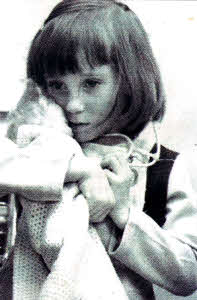 The then four-year-old became known to Star readers when she appeared in the paper in December 1970, having successfully come through her operation.
Heart surgery was in its infancy in those days, but the operation was successfully carried out at the Royal Victoria Hospital and the young June, inspired by what was going on around her, decided she would like to become a nurse.
However, she quickly changed her mind, deciding instead that she would like to be a heart surgeon, a decision from which she she never wavered.
She missed almost her entire first year of her primary education but with sheer determination and spirit, rapidly made up for lost time in the following year.
Whilst her new valve gave her new life, it started to fail again as she neared the age of 11. June was given a replacement valve once more on the day she should have been sitting her '11 Plus' examination. Her first words after recovering from the anaesthetic were: "I wonder how the children are doing in their 11 Plus today?"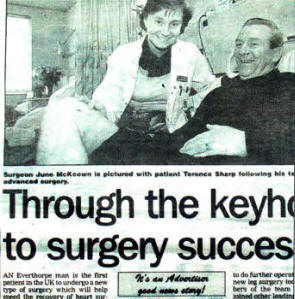 Once again, June was deprived of many months of her education and when she was sufficiently recovered she was individually assessed by the Northern Ireland Education Authority who concluded she was a prime candidate for a place at Grammar School, thus beginning her time at Friends' School in Lisburn.
The year prior to June's GCE '0' Levels, her mitral valve was in need of replacement for a third time. Again she missed out on her education but again she dedicated herself to making up for lost time to sit her exams, where she achieved top grades. After achieving her A' Levels, June was accepted into the Faculty of Medicine at Glasgow University in 1984.
In 1989, June qualified as a doctor in spite of all the ailments and impediments she had endured along the way.
Still determined to pursue her dream of becoming a heart surgeon, June studied and trained in Papworth Hospital in Cambridge, Hull, Aberdeen, Edinburgh and Glasgow. Her training also included time in Sydney, Australia at the Royal Prince Alfred Hospital, where she featured on the UK television programme 'RPA'.
First female in Scotland to qualify as a Cardiothoracic Surgeon
June's dream was finally fulfilled in 1994 when Fellowship of the Royal College of Surgeons was bestowed upon her and she made history as the first female in Scotland to qualify as a Cardiothoracic Surgeon.
For the past two years June had worked at the new West of Scotland Heart and Lung Centre in the Golden Jubilee National Hospital in Glasgow, which was officially opened by the Queen on July 3 2008. There, June dedicated herself to improving and saving the lives of others and to imparting her surgical skills and knowledge to other doctors and nurses as a formally qualified instructor.
In the past few weeks June's own health failed and she finally lost her battle for life on May 5 at the age of 44, at the Golden Jubilee in spite of all the efforts of her friends and colleagues to save her.
June's father Raymond paid tribute to his daughter: "June was dedicated to her work and was just loved by everyone. This was shown by the number of surgeons and nurses and friends from Scotland and the south of England who came to her funeral to pay their respects. In spite of everything June went through, she just had a lovely laugh and she would just be bent over in two laughing.
"She treated everyone with total respect, she never had a bad word to say about anybody; that's just the way she was."
In a letter of condolence to June's family, John McKenna, Vice President of Heart Valves at Vasutek Ltd wrote: "June was a star amongst those of us who have to deal with the usual parade of grumpy males who pepper the demanding world of cardiac surgery. She was always cheerful, pleasant and obviously connected so well with patients. "It is not often in our business that a moment touches all of us. June's passing was such a moment. June had the knowledge and experience to know about her condition and faced her trials with fortitude and characteristic good humour. "We are all diminished a little now by not having June in our lives but June will live on with those of us who were privileged to have known her."
June's funeral took place last Monday at St. Patrick's Church in Lisburn, conducted by Fr. Eamon Magorrian, with interment in Lisburn New Cemetery, Blaris.
A reading from the Book of Ecclesiasticus at her funeral summed up how special June had been.
"Honour the Doctor with the honour that is her due, in return for her services, for she has been created by the Lord.
"Healing itself comes from the Most High, like a gift from a king. "The doctor's learning keeps her head high, she is regarded with awe in the sight of great men," Ecclesiasticus, Chapter 38, Verses 1 to 3.
stacey.heaney@ulsterstar.co.uk
Ulster Star
21/05/2010