Ed and Austin to be 'driven mad' during 10,000 mile charity challenge
by STACEY HEANEY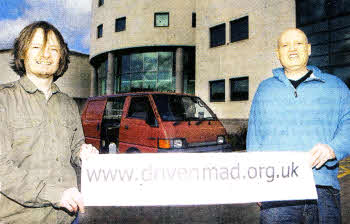 LOCAL men Ed Booth and Austin McVeigh are preparing for the ultimate challenge when they will drive from Lisburn to Mongolia this summer, in order to deliver a van and essentials to impoverished children in the region.
Ed, who works at Lisburn and Hillsborough Tourist Information Centres, and Austin are driving 10,000 miles this summer from Lisburn to the capital of Mongolia, Ulaanbaatar, via Bishkek, the capital of Kyrgyzstan.
Ed and Austin will be leaving Lisburn on July 10, when they will begin their 10,000 mile journey, 5,000 miles of which will be on unpaved roads.
The gruelling adventure will take them nearly halfway around the world to deliver a working van and its contents of clothing and bedding to children's charities in the impoverished central Asian countries. They will drive for a month through a dozen countries, over mountain ranges and across the Gobi Desert to reach their goal.
As part of the challenge, which will raise funds for Alpha Communities, a charity which was established in 1994 to give hope and help to children, families and communities affected by poverty in Mongolia and China, they will live in their Mitsubishi L300 van, sleeping in the back of the van in order to save as much money as possible.
Ed, who has previously worked in Calcutta, working with the Sisters of Mother Teresa since 1996, said: "Through my work there I got to know street people and have been going back every few years. I went out again last year for a few weeks, where I read about Mongolia and I think it is really important to help these people out."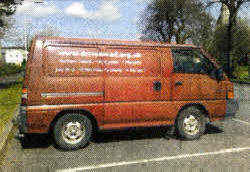 Speaking about the long hunt for a van, Ed said: "We looked into vehicles for quite a long time and this seemed to be the best.
"I'm absolutely looking forward to it; it's a challenge," he added.
Austin has long wanted to attempt such a journey, he said: "The time came when I thought 'if I don't do it now I never will'. It's the experience of a lifetime and an opportunity to raise money and awareness the same time."
Ed and Austin are currently looking for commercial or private sponsorship for the charities - no donation is too small or large.
Their target is £3,000 in addition to the vehicle, which will be auctioned off in Mongolia and the proceeds given to the charities.
You can help by providing:
Cash - no donation too large or small.
Servicing for the van before it leaves on its epic trip and spares for the journey.
In return, they will put your company name and logo on their website and on the van which will be on the road every day in Northern Ireland before they set off in July.
Anyone interested in learning more or donating towards the mission can contact Ed or Austin at info@drivenmad.org.uk or pay a visit to the website at www.drivenmad.org.uk.
stacey.heaney@ulsterstar.co.uk
Ulster Star
07/05/2010