Delight as new sixth form gets go ahead at Dromore High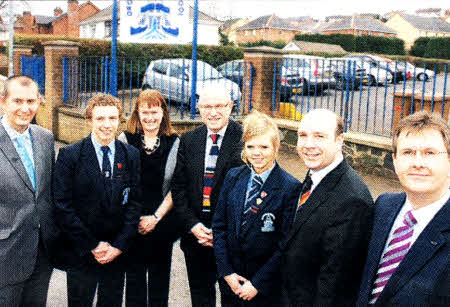 Edwin Poots, Paul Stewart and Jeffrey Donaldson with Dromore High School's Head Boy Simon McCracken, Winifred Herron Vice Principal, John Wilkinson Principal and Robyn McKee Head Girl at Dromore High School. US1110-134A0
A NEW sixth form for Dromore High School has been given the go ahead by Education Minister, Caitriona Ruane.
It means pupils wanting to continue their education beyond GCSE will no longer have to move schools from September next year.
The approval follows a lengthy campaign and Principal Mr John Wilkinson said he was delighted the proposal to deliver post-16 courses has been accepted by the Department of Education.
This decision will bring wrapround education to the Dromore and district community" he said. "The development proposal highlighted the mechanism by which we would bring about the reality of post-16 provision. We look forward to implementing our plans and involving our significant partners in our scheme." Mr Wilkinson said the school had always argued it could support post-16 courses.
He said: "With over 90 students proceeding to do 'A' levels and BTec courses the school's intention is to offer courses which are both academic and vocational. These course's will be carefully designed by professional staff to a standard that will enable all young people attending this school to proceed to university, college or other centres of excellence.
"The next academic year will be spent preparing for our first post-16 cohort in September 2011. I know that we will continue to serve our pupils' needs and prepare them for university, college, business and the world of work. However we will remain true to our central values inculcating in our pupils honest, integrity, trustworthiness and respect for ourselves and others."
The Principal thanked everyone who has supported the campaign. "In particular we acknowledge the work done on our behalf by the local politicians and in particular a past parent Minister Edwin Poots MLA who has accompanied us every step of the way" he said.
Mr Poots said: "This is really good news for Dromore High School. The children have been discriminated against for years by having to make alternative post-16 education provision.
"It will fundamentally improve the lives of children in Dromore and surrounding areas."
Speaking about her decision the Minister said: "The new sixth form will offer A-level courses to be taught in the school and other post-16 courses taught in conjunction with the Southern Regional College. am confident this new provision will be well supported by pupils and parents alike and I wish everyone involved well for the future." Lagan Valley MP Jeffrey Donaldson also welcomed the news saying which, he said, recognises that "Dromore is on of the fastest growing towns in County Down and is entitled to have full provision for the children in that area". He thanked the Principal, staff and Board of Governors for all their efforts and described it as an "excellent achievement".
"I am delighted this will end the difficulties for the children having to travel to Banbridge, Lisburn or Belfast to complete their education," he said.
"We had several meetings with the Education Minister and her Department officials and are pleased to see the provision now being made."
MLA Jonathan Craig said that as a former pupil he welcomed the news, describing the current situation "as an anomaly which should never have existed as Dromore exists almost in isolation."
Mr Wilkinson also acknowledged the help he received from colleagues, saying: "To win the argument we relied too upon the good counsel of the SELB officers including the past and present chief executives, Helen McClenaghan, Tony Murphy and Gregory Butler."
Ulster Star
19/03/2010