Friends' take top title at Edinburgh MUN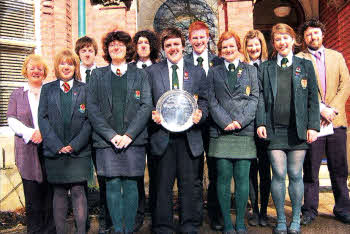 ELEVEN pupils from Friends' School recently took part in George Watson's College Model United Nations conference in Edinburgh, winning a number of awards against schools from across Europe and the Middle East.
The Friends' delegates represented Pakistan at the conference debating a wide range of issues such as Polar Oil, Landmines and Asian Sweatshops in one of Britain's premier conferences and put in an excellent performance. Following a lobbying session on Friday evening in which delegates attempted to secure support for their resolutions, Saturday provided an intriguing committee session. Friends' delegates made a notable impact during the committee stage and as the end of the day approached were being seen as contenders for major prizes the following day. Saturday night's social events, the Ceilidh and disco, were widely appreciated as usual and allowed delegates to wind down before things got serious on Sunday with the General Assembly session.
It was here that Friends' really showed their ability with an inspired lobbying session which secured their resolution a place in the debate involving 600 other delegates. An inspirational speech for that resolution and a further speech later in the day during the emergency session secured the group of Friends' pupils the award of Best Delegation, beating off opposition from over 40 other schools. Individually there were also a number of awards for Friends' pupils. Rowan Shield, Emily Smith and Lee Marsden were Commended; Peter Moorhead, Thomas Wilkinson and
Kerry Logan Highly Commended, and Luke Sproule received the award for Best Delegate in committee.
Ulster Star
09/04/2010