Electric Picnic launched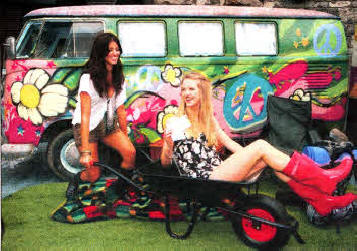 ELECTRIC Picnic extends another warm invitation to all lovers of music, art, culture and general frivolity to our annual little get-together in Stradbally, Co Laois on September 3, 4 & 5.
The line up revealed so far includes the legendary Roxy Music, as well as Leftfield, Massive Attack, LCD Soundsystem, Hot Chip, The Frames, Public Image Ltd; The National; Imelda May; Mumford & Sons; Seasick Steve; Modest Mouse; Gil Scott-heron; Fever Ray; Jonsi (Sigur Ros); Fat Freddy'S Drop; Bad Lieutenant; Crystal Castles; Afro Celt Soundsystem; Booka Shade; Bloody Beetroots Death Crew77; Steve Earle; The Waterboys; The Alarm; Beach House; The Big Pink; 808 State; Low Anthem; Redneck Manifesto; The Horrors; Monotonix; Liquid Liquid; Here We Go Magic; Edan; Paul Brady, Field Music; Steve Mason, Cymande; Messiah J & The Expert; Dublin Gospel Choir; Caribou; Adrian Crowley; Villagers; New Pornographers; Breakestra & Chali 2 Na; Mr Scruff; Memory Tapes; and more to be announced.
But the music is just one of the attractions on offer at the Electric Picnic. The Body and Soul village will be the usual haven inside the festival with a meandering, colourful wonderland of music stages, visual installations, massage tents, cosy cocoons, disco corners, great food, and as always...something that little bit different.
Mindfield, Electric Picnic's spoken word area, was one of last year's undisputed talking points, literally. From the hilarious news quiz hosted by a pin-striped and wellington-booted Jon Snow to a stunning poetry reading by Florence Welch on the Literary Stage to the highly charged debates about the economy hosted by David McWilliams, MindField announced its arrival as the forum for national conversation. This year's programme will see even higher profile international speakers, writers and thinkers in conversation about everything from sport to architecture, music to economics, fashion to science. The Leviathan and Word stages return, as well as the Arts Council Literary Stage, Science Gallery, Puball Gaeilge and Theatre Stage.
Stradbelly Laughs will be on hand to satisfy your hunger for humour over the three days. The line-up of side splitting comic heroes will be announced later in the year.
Stradbally will also play host to a number of effervescent art collectives. The incredible Lucent Dossier bring their outrageous, magical vaudevillian circus back to Electric Picnic. Also returning again are Arcadia with their unique space-aged 360 degree venue complete with robots and junk metal art installations, circus acts, trapeze performers and fire spinners.
As winner of the 'Greenest Festival' Award in 2009 awarded by the Irish Festival Awards, Electric Picnic will be endeavouring to make even more efforts this year to protect the environment and incentivize and communicate eco-awareness.
There will also be plenty for younger festival goers this year - with Kiddie Yoga, Utensils Puppet Show, felt-making, enchanted fairy workshops and arts & crafts.
And as if that wasn't enough there will be all the usual favourites, including Silent Disco, art trail, Fossets Circus, Village Green, Farmers Market and gourmet food.
Tickets are on sale now from all usual outlets.
Ulster Star
09/04/2010