Thousands of Haitians get help from Lisburn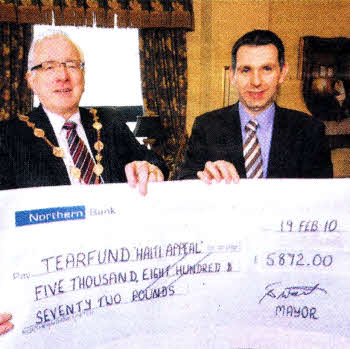 NEARLY £6000 has been raised by the people of Lisburn in response to the Mayor of Lisburn's 'Emergency Appeal', to provide assistance through 'Tearfund' to those affected by the devastating earthquake in January.
The sum raised by people in the city could provide up to 5,400 people in Haiti with access to clean water.
The Mayor, Councillor Allan Ewart, said: "I am delighted with the donations received. The sum was collected within four weeks from donation boxes located in all Council facilities throughout the Lisburn area. It proves yet again just how generous Lisburn's residents are in times of need.
The devastation caused by the earthquake has left Haiti suffering from considerable deaths, thousands of children are orphaned and many families are without food, water and shelter."
Tearfund staff and partners are currently in Haiti responding to the disaster in a number of ways.
Mr Ewart presented Tim Magowan, Director of Tearfund Northern Ireland, with the cheque. Mr Magowan said: "The support demonstrated by those in Lisburn is phenomenal. It will particularly help our local partners to provide clean water to survivors of the earthquake, as well as food, shelter and psychological support. On behalf of my organisation and those who will benefit in Haiti I would like to say thank you to everyone in Lisburn for their support."
Mr Ewart added: The difference made by our City to thousands of people in Haiti is significant and thank you again everyone for your generosity, you should be proud of your assistance."
Ulster Star
12/03/2010